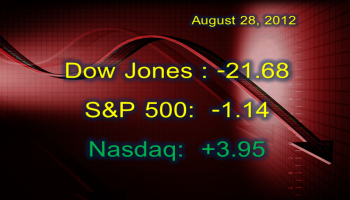 U.S. stocks were mired in a tight range Tuesday, getting some support from a better-than-expected report on the U.S. housing market.
The Dow Jones industrial average demurred 21.68 points to 13,102.99.
The S&P 500 index gave back 1.14 points to 1,409.30, but the tech-heavy Nasdaq Composite Index was positive by 3.95 points to 3,077.14.
The Dow and S&P 500 have fallen 6 out of the last 7 days, but the Naz has managed three straight green closes.
Shares of Movado Group (NYSE:MOV, +17.44%) surged more than 17 percent, its biggest gain since December 2010, after the luxury watchmaker reported better-than-expected earnings and raised its forecast for the year. Shares of the New Jersey-based company are up about 95 percent in 2012.
H.J. Heinz Co (NYSE:HNZ, +1.68%) Chief Executive William Johnson said the food company expects to report strong first-quarter results Wednesday, sending the ketchup maker's shares nearly 3% higher in afternoon trading.
Shares of ALR Technologies (OTCBB:ALRT, +27.27%) rose sharply as the health technology company reported completion of development of its Health-e-Connect chronic disease management system and unveiled a first-in-class universal data upload cable.
Shares of Lexmark (NYSE:LXK, +13.73%), known for making printers, advanced after the company announced it would fully exit the inkjet consumer business, lay off 1,700 workers and focus on its more profitable imaging and software businesses. In the Midwest, the company will be laying-off more than 550 workers in Lexington, KY, including 350 full-time employees, as part of closing its inkjet division. Further, Lexmark also announced an additional $100-million U.S. stock buyback.

Poultry company Sanderson Farms (Nasdaq:SAFM, +8.52%) swung a better-than-expected fiscal third quarter as it benefited from higher prices for its products.
Best Buy (NYSE:BBY, -0.06%) shares rose early, but then faded, a day after the electronic retailer's announcement that it will give its founder, Richard Schulze, the chance to take a closer look at its financial statements as he finalizes a takeover proposal.
Meanwhile, investors are also keeping tabs on oil prices, which crept, as Hurricane Isaac curtailed oil production along the Gulf of Mexico.
The national average price for a gallon of regular gas continues to increase, hitting $3.76 U.S. Tuesday, according to the American Automobile Association. Experts say that prices could shoot up another 10 cents fairly quickly, depending upon the extent and duration of the refinery shutdowns.
Economically speaking, the S&P/Case-Shiller national home price index, which covers more than 80% of the housing market in the United States, surprised with a 6.9 percent gain in the second quarter. Analysts had expected a 0.3% decrease.
The report indicates that the sharp boost in home prices could signal a recovery in the long-suffering U.S. housing market.
However, consumer confidence tumbled in August, marking the worst reading since November. The sharp decline was driven by growing concern about the job market, along with a dour outlook for business conditions over the next six months.
The closely watched index from The Conference Board fell to 60.6 from 65.4 in July. That was worse than the 65.7 expected by economists surveyed by Briefing.com.
The price on the benchmark 10-year U.S. Treasury rose, pushing the yield down to 1.63% from 1.65% late Monday. Treasury prices and yields move in opposite directions.
Oil prices for September delivery hiked 77 cents to $96.21 U.S. a barrel.
Gold futures for December delivery fell $6.10 to $1,669.50 U.S. an ounce.
ALRT Technologies (ALRT) Stock Quote and News:
---
Disclaimer: Neither www.otcshowcase.com nor its officers, directors, partners, employees or anyone involved in the publication of the website or newsletters ("us" or "we") is a registered investment adviser or licensed broker-dealer in any jurisdiction whatsoever. Further, we are not qualified to provide any investment advice and we make no recommendation to purchase or sell any securities. The prior article is published as information only for our readers. otcshowcase.com is a third party publisher of news and research. Our site does not make recommendations, but offers information portals to research news, articles, stock lists and recent research. Nothing on our site should be construed as an offer or solicitation to buy or sell products or securities. This site is sometimes compensated by featured companies, news submissions and online advertising. Viper Enterprises, LLC (parent company of OTC Showcase) has been compensated three thousand dollars for one month of consultation and journalism services and to manage an investor relations/awareness program by ALR Technologies. Viper has completed prior service agreements with ALRT Technologies with full disclosure listed on our disclaimer/disclosure page. Please read and fully understand our entire disclaimer at http://www.otcshowcase.com/about-2/disclaimer.