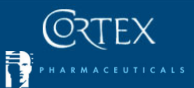 Sleep apnea, a condition in which breathing stops or gets very shallow during sleep, is a common disorder that can have serious consequences, including an increased risk of high blood pressure, heart attack and stroke.  The most common type of sleep apnea, according to the National Institute of Health, is obstructive sleep apnea, meaning that a person cannot get enough air through the mouth or nose to the lungs.  While there are conservative methods for treatment, such as changes in lifestyle or even different pillow, doctors often recommend the use of continuous positive airway pressure (CPAP) devices which blow pressurized air into a mask to keep airways open.
Blossoming Cortex Pharmaceuticals (OTCBB: CORX), a clinical stage biotech based in Irvine, California, has a pipeline of compounds for a variety of indications, including ADHD, Alzheimer's disease, drug-induced respiratory depression and sleep apnea.
In 2010, Cortex sold its Ampakine compounds for respiratory disorder, CX717 and CX1942, to Biovail, but after Biovail and Valeant Pharmaceuticals (NYSE:VRX) agreed to a $3.2 billion merger later that year, a deal was struck for Cortex to reacquire the mid-stage development drugs from Biovail for a $200,000 up front payment and up to $30.15 million in potential future payments.

Today, Cortex reported some merger news of its own by saying that it has consummated a merger with privately-owned Pier Pharmaceuticals in an all-stock transaction.  The result is Pier now being a wholly-owned subsidiary of Cortex, effective August 10, 2012.  Per the agreement, Cortex will issue about 58 million shares of its common stock to Pier's former security holders and certain of Pier's vendors, which represents approximately 41 percent of the voting power of the merged organization upon closing.
The merger brings together a series of unique drug products that in preclinical animal models and early clinical studies have shown efficacy in preventing or reversing drug-induced respiratory depression and in reducing obstructive sleep apnea. Cortex already owns an AMPA receptor positive allosteric modulator (CX1739), a Phase 2 clinical oral drug candidate targeting opiate-induced respiratory depression and central sleep apnea.
The merger gives Cortex Pier's dronabinol, a cannabinoid agonist starting a Phase 2 study in obstructive sleep apnea patients that is entirely funded by a National Institute of Health grant of nearly $5 million that was awarded to Cortex's new Board member and scientific advisor, Dr. David W. Carley (founder and former director of Pier and Professor of Biobehavioral Health Science, Medicine, Pharmacology, and Bioengineering at the University of Illinois at Chicago).  In a pilot Phase 2 study, Pier demonstrated that dronabinol reduced measures of obstructive sleep apnea and excessive daytime sleepiness when administered once-a-day before bedtime for three weeks.
Going forward, the Company will be entirely focused on treatments for brain-controlled breathing disorders, and will have multiple opportunities for value-generating clinical milestones with dronabinol and CX1739, according to today's press release.
While select team members of Cortex have resigned with the merger, the combined company's new executive team and board of directors is highly-experienced with deep roots in drug development and financing.
Mark Varney, President and CEO of Cortex, stated: "By combining technologies with Pier, we create a biotechnology company that has two Phase 2 clinical assets, and additional preclinical assets with a focus on the highly unmet medical area of brain-controlled breathing disorders. Not only are the consequences of these breathing disorders dangerous to patients, but they also represent extremely large commercial market opportunities."
Cortex is only carrying a market cap of less than $6 million, which could be perceived as a very low valuation considering the company will have two mid-stage trials underway targeting areas of unmet medical need.  The share structure is going to mushroom by about 60 percent with the payment for Pier; pushing to number of shares outstanding to about 140 million.  Even still, shares of CORX are trading at 7 cents each which leaves substantial headroom for growth as the new, larger company moves down the regulatory pathway with its expanded pipeline.  Proper due diligence, as always, is encouraged.
Cortex Pharmaceuticals (CORX) Stock Quote and News:
---
Disclaimer: Neither www.otcshowcase.com nor its officers, directors, partners, employees or anyone involved in the publication of the website or newsletters ("us" or "we") is a registered investment adviser or licensed broker-dealer in any jurisdiction whatsoever. Further, we are not qualified to provide any investment advice and we make no recommendation to purchase or sell any securities. The prior article is published as information only for our readers. otcshowcase.com is a third party publisher of news and research. Our site does not make recommendations, but offers information portals to research news, articles, stock lists and recent research. Nothing on our site should be construed as an offer or solicitation to buy or sell products or securities. This site is sometimes compensated by featured companies, news submissions and online advertising. Viper Enterprises, LLC (parent company of OTC Showcase) has received no compensation for this article from and owns no shares of the aforementioned company(ies). Please read and fully understand our entire disclaimer at http://www.otcshowcase.com/about-2/disclaimer.