MarketsandMarkets has released a market research report title, "Machine to Machine (M2M) Market Global Forecast & Analysis" detailing the rapid growth of the emerging field.  According to the report, the total M2M market is expected to reach $85.96 billion by 2017 at a compound annual growth rate (CAGR) of 26.1% from 2012 to 2017.
The booming use of smartphones and regulatory changes that favor M2M technologies have helped drive growth, but the industry as a whole is still struggling to gain main stream acceptance.  This is typically attributed to high start-up cost and disparate systems that fail to offer a complete solution to users.  As with any other technology, the M2M industry has gone through growing pains, but its prowess is widely-heralded as being a technology of the future…starting now.  To that end, it is notable that a company, iMetrik M2M Solutions Inc. (OTCBB: IMEK), has bridged the gap of in the fragmented M2M space to provide an all-in-one solution.
The company offers technologies that have been honed over the last decade through millions of dollars in research and development to provide comprehensive wireless services designed to control and manage the access and use of virtually any asset from "anywhere-to-anywhere" in the world.  A unique component of iMetrik's innovative offerings is its cellular gateway that is ready to hit the streets.  The company has partnered with Monnit Inc., a global leader in the sensor industry to manufacture and distribute the new product to a variety of industries.
A true "plug-n-play" system, the "MonnitLink™ Cellular Gateway" which allows Monnit WIT™ Wireless Sensors to communicate with the iMonnit™ Online Wireless Sensor Monitoring and Notification System via cellular transmission. This is the perfect solution for monitoring of remote locations, or where an existing internet connection is not an option.  Utilizing the latest Quad-band GPRS/GSM wireless radio, global coverage is available without any cellular contracts; keeping the cutting-edge package cost-effective for customers.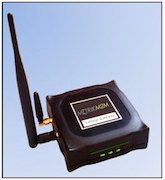 Through the system, users are able to monitor any properties associated with an asset.  Effectively, data is collected from the asset – whether it is location, movement, temperature, moisture content or any other reading required – and transmitted to the client's computer, tablet or phone where it can be managed properly from a remote location.  The system could prove to be invaluable.  A prime example is iMetrik's relationship with Metropolitan Industries, the largest sump pump manufacturer in the U.S., as well as a leader in control systems and ancillary equipment.  Staying with the sump pump theme, with the system installed on any sump pump, customers will be alerted if the pump is not working properly.  This could potentially save millions of dollars in water damage should a flood occur without anyone being aware that the sump pump wasn't operating properly.
For 2011, the National Weather Service estimated flood damage (not including coastal flooding from storm surges) totaled a whopping $8.41 billion.  That's just weather related damage and not floods associated to broken pipes.

iMetrik M2M Solutions recently reported receiving Federal Communications Commission (FCC). certifications of its cellular gateway. These certifications guarantee consumers that the product conforms to essential regulatory requirements of performance and safety in the United States.  iMetrik is near completing the PTCRB certification required by North American cellular operators.  The company is also in the process of getting CE certification, the European counterpart to the FCC, and required to cover the upcoming demands from the international market.
"These certifications are a testament to the success of our process and products," said Medhat Mahmoud, Vice President of Technology & and Strategy for iMetrik M2M Inc.
A few months ago, iMetrik proceeded to a limited production run of its cellular gateway solution for field trial by customers of its distributors Monnit Inc. and Metropolitan Industries, Inc.   The company is now preparing for a full production run, after taking into consideration all requirements and enhancement gathered during the field trials in USA and overseas.
The developmental stage is done and the company is on course to transition into the revenue-generation stage.  The close relationships with Monnit and Metropolitan should prove a boon to exponential growth through an accelerated pathway to commercialize the product by tapping-in to the thousands of existing clients who will be offered the new technology.  As orders start to steadily stream in, IMEK's days of carrying a $9.3 million market cap and 15 cent price tag per share should disappear.
iMetrik M2M Solutions (IMEK) Stock Quote and News:
---
Disclaimer: Neither www.otcshowcase.com nor its officers, directors, partners, employees or anyone involved in the publication of the website or newsletters ("us" or "we") is a registered investment adviser or licensed broker-dealer in any jurisdiction whatsoever. Further, we are not qualified to provide any investment advice and we make no recommendation to purchase or sell any securities. The prior article is published as information only for our readers. otcshowcase.com is a third party publisher of news and research. Our site does not make recommendations, but offers information portals to research news, articles, stock lists and recent research. Nothing on our site should be construed as an offer or solicitation to buy or sell products or securities. This site is sometimes compensated by featured companies, news submissions and online advertising. Viper Enterprises, LLC (parent company of OTC Showcase) has been compensated four thousand dollars for one month of consultation and journalism services and to manage an investor relations/awareness program for iMetrik M2M Solutions by a third party, Capital Situation Inc. Please read and fully understand our entire disclaimer at http://www.otcshowcase.com/about-2/disclaimer.