Take a moment to get connected with Webxu.
Read articles on WBXU and comment in the WBXU blog.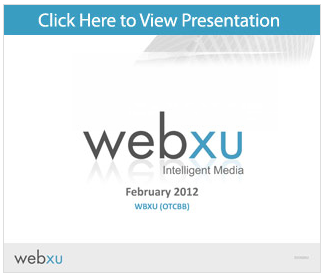 Company Overview
Ticker OTCBB: WBXU
YTD Revenue through 9-30: $19.6M
YTD Net Income through 9-30: $2.4M
Shares Outstanding: 18.5M
Year founded: 2010
Headquarters: Los Angeles, CA
Webxu's mission is to build the highest performing media network in the industry. Webxu generates revenue by providing advertiser clients with targeted consumer traffic generated from its network of branded websites. Operationally, Webxu is comprised of two synergistic components. Webxu Media manages targeted consumer data. Webxu's portfolio of branded websites delivers client offers to targeted consumers.
Market Opportunity
In 2011, revenue in Online Advertising is projected to reach $30 billion. Revenue in the Customer Acquisition segment of online advertising is projected to reach $1.6 billion (source - IAB). The fragmented Customer Acquisition segment is largely comprised of efficient, individually owned consumer websites offering various forms of editorial content, commerce, or applications. Webxu is currently capitalizing on the opportunity to build a network of performance based properties that generate quality traffic for its advertiser clients. A key strategy is to acquire businesses and brands with experienced management, efficient operational processes, organic traffic and solid advertiser relationships. By acquiring and integrating these businesses, Webxu is creating an opportunity for scale and an opportunity to compete with industry leaders such as Internet Brands and ValueClick. Webxu's platform for E-Commerce, Customer Acquisition and data monetization enables this acquisition activity.
Acquisition Strategy
Company Summary
December 2011
Acquisitions are completed based on a reasonable multiple of trailing EBITDA. A major portion of the financial consideration is paid through earn-out measurements, minimizing upfront financial outlays and creating unified growth efforts.
Targets bring instant in-house relationships with major advertising clients worldwide. All client relationships provide cross-business synergies and new revenue opportunities to all business units.
Targets are focused in verticals with a surplus of quality businesses including Finance, Education, Careers, Auto and Shopping.
Targets include known branded web properties and businesses bringing both brand value and increased market capitalization.
Targets bring quality data and traffic to provide revenue growth for in-house advertisers.
Targets have experienced industry management teams that bring invaluable resources to all subsidiaries.
Acquisition Targets
Webxu's acquisition target pipeline includes, but is not limited to, media companies, branded web properties and Customer Acquisition based E-Commerce businesses that are EBITDA positive and growing. During the sourcing process, targets are evaluated for operational and managerial synergies with Webxu's current business and platform to determine scale above and beyond their existing growth. To date, Webxu has identified and focused on businesses in the finance, education, careers and auto vertical markets. These targets possess strong retail client relationships, solid traffic bases, secure technology and most importantly management teams that are dedicated to the greater vision of Webxu. Additional targets include highly profitable mobile and social Customer Acquisition and advertising networks.
Core Team
Matt Hill - Chairman & CEO Shopping.com sold to Compaq (1999), Superdudes sold to Intermix/Myspace (2004), Shopit sold to Atrinsic (2009), Adjuice sold to Beyond Commerce (2010).
John Ellis - President & COO ValueClick, Yahoo, Earthlink, Overture, Kinko's.
Jeff Aaronson - CFO & Board Member Davidoff, Kaching Kaching, Pfingsten Partners, Diasys Corp (AMEX).
Tom Newell - General Counsel O'Melveny & Myers, CBS, Golden Gate Productions, Homegain.com.
Recent News
December – Announced the appointment of Michael Thorson to the Board of Directors.
November – Announced the acquisition of Lot6 Media, Inc.
October – Announced the appointment of John Ellis as President and COO.
October – Announced that shares of Webxu common stock began trading under ticker symbol WBXU.
June – Launched Customer Acquisition media company Bonus Interactive.
Investor Contact
Webxu, Inc. Michelle Stoler
Webxu (WBXU) Stock Quote and News:
---
Disclaimer: Neither http://www.otcshowcase.com nor its officers, directors, partners, employees or anyone involved in the publication of the website or newsletters ("us" or "we") is a registered investment adviser or licensed broker-dealer in any jurisdiction whatsoever. Further, we are not qualified to provide any investment advice and we make no recommendation to purchase or sell any securities. The prior article is published as information only for our readers. otcshowcase.com is a third party publisher of news and research. Our site does not make recommendations, but offers information portals to research news, articles, stock lists and recent research. Nothing on our site should be construed as an offer or solicitation to buy or sell products or securities. This site is sometimes compensated by featured companies, news submissions and online advertising. Viper Enterprises, LLC (parent company of OTC Showcase) has been compensated four thousand dollars by an unaffiliated third party, Accelerize Financial, for its efforts in presenting the WBXU profile on its website and distributing it to its database of subscribers as well as other services. Please read and fully understand our entire disclaimer at http://www.otcshowcase.com/about-2/disclaimer.
*This Company Summary may contain statements relating to future results of Webxu, Inc. (including certain projections and business trends) that are "forward-looking statements" as defined in the Private Security Litigation Reform Act of 1995. Actual results may differ materially from those projected as a result of certain risks and uncertainties, including but not limited to, changes in political and economic conditions, demand for and market acceptance of new and existing products, as well as other risks and uncertainties detailed from time to time in the filings of the Company with the Securities and Exchange Commission.