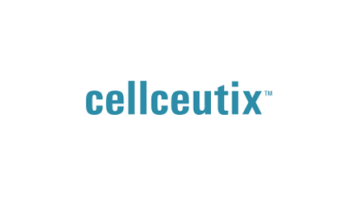 There is starting to be a steady buzz across the web about Cellceutix Corporation (OTCBB: CTIX) and its novel cancer drug, Kevetrin™.  For starters, the p53-activating drug is on tap to begin dosing patients with solid tumors any day now in clinical trials at the vaunted Harvard University's Dana-Farber Cancer Institute and partner Beth Israel Deaconess Medical Center.  Second, Cellceutix has reported that Beth Israel is sponsoring independent trials on Kevetrin in combination with Pfizer (NYSE: PFE) multikinase inhibitor drugs as potential new therapies for renal cancer and melanoma.  Now, this weekend, the company said that a major university in Europe has approached them to sponsor and host additional research on Kevetrin targeting leukemia in combination with drugs from one of the world's biggest pharmaceutical companies.
Big biotechs have and insatiable thirst right now for new drugs as the patent cliff has dampened revenues for many and pipelines are thin for novel drug candidates.  Cancer is of particular interest as the revenue stream for a successful cancer drug can easily tally into the billions annually.  Additionally, a recent report from the Tufts Center for the Study of Drug Development found that cancer drugs are getting faster approval times at the FDA than all other disease categories combined; giving the already in-demand drugs even greater appeal to big pharma.  According to Fierce Biotech, "[the] center concluded that cancer drugs claimed a growing share of the orphan drug market as the total time it requires to take a fast-track drug through development to an approval shrunk by an impressive 1.7 years over the past decade."

The value of a blood cancer drug candidate has recently been delineating by Celgene (NASDAQ: CELG) and Janssen Biotech, a Johnson & Johnson (NYSE: JNJ) company.  Celgene acquired Avila Therapeutics in a deal valued up to $925 million with the primary target of the deal being AVL-292, a phase 1 drug for the treatment for patients with B-cell blood cancers.  Janssen recently agreed to pay up to $1.1 billion to Danish drug maker Genmab for global license rights to blood cancer compound daratumumab.  Currently daratumumab is in phase 1/2 clinical trials.  With three trials ongoing (only one of which Cellceutix will be funding on its own), the value of Kevetrin in the next year could certainly be in line or greater than AVL-292 or daratumumab based exclusively on its use as a blood cancer treatment.
Adding to the allure of Cellceutix is its pipeline of other drug candidates, notably Prurisol, the company's anti-psoriasis drug readying for phase 2 clinical trials.  Cellceutix is advancing the drug immediately into mid-stage clinical trials under guidance from the FDA that a 505(b)(2) application is an acceptable approach because the active moiety of the drug already has FDA approval for a different indication.
Prurisol has demonstrated strong potential in laboratory studies where it outperformed methotrexate, a standard of care today for psoriasis.  "Mice treated with Prurisol showed no reoccurrence of psoriatic lesions during the experiment, whereas animals treated with MTX showed a median reoccurrence of lesions by the 57th day," according to documents submitted to the FDA by Cellceutix.  The company released images of mice treated with Prurisol showcasing its effect.  Cellceutix is having the drug manufactured by Dr. Reddy's Laboratories (NYSE: RDY) and clinical trials should commence in the first half of 2013.  The company is extremely optimistic about Prurisol replicating its efficacy in humans.
A good benchmark for the value of Prurisol can be gauged by the recent activity of Steifel Labs, a GlaxoSmithKline (NYSE: GSK) company.  Steifel said it will be spending approximately $350 million to acquire rights to skin treatment drugs still in development from Welichem Biotech and Basilea Pharmaceutica.  It is noteworthy that Steifel's acquisition is for topical treatments.  Prurisol is being synthesized into an oral medication which should give it a value of potentially many multiples of the Steifel compound if a therapeutic benefit can be observed in humans.
Shares of CTIX have edged upward in trading today with the news about the European university seeking clinical trials with Kevetrin.  Even with the share appreciation taking the value of a share to 71 cents, the company still seems grossly undervalued to its peers.  Measuring the Cellceutix market cap and pps (as of Friday's close) to the value of other companies at the time they initiated clinical trials at Dana-Farber demonstrates the unequal valuations, without giving any consideration to Prurisol or other drugs in the Cellceutix pipeline.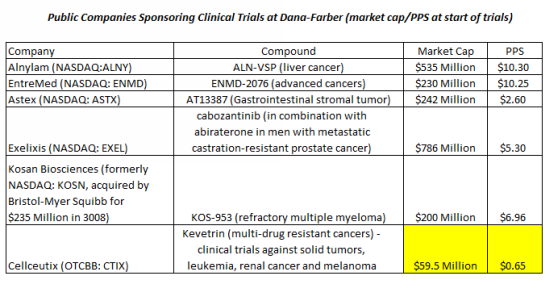 More than 800,000 shares of CTIX have traded about 45 minutes into the trading day, representing the biggest volume day in CTIX history and crushing its three month daily average of 92,688.  As developments continue to unfold with Kevetrin and Prurisol, it is foreseeable that volume will continue to increase and firm at higher levels as interest around this baby blue chip builds.  Given all of the activity in the company and the low valuation, the price per share should increase substantially as well.
Today's press release from Cellceutix:
Plans for European Funded Leukemia Phase 1 Trial
Kevetrin anti-cancer drug to be tested in combination with compounds from leading pharmaceutical company
Cellceutix Corporation (OTCBB: CTIX) (the "Company"), a clinical stage biopharmaceutical company focused on discovering small molecule drugs for hard to treat diseases, is pleased to announce that it is in discussions with a major university (the "University") in Europe wishing to conduct clinical trials on Kevetrin™, the Company's flagship anti-cancer compound.  The University, which is ranked in the top ten of universities in Europe by review firm 4 International Colleges & Universities (www.4icu.org) wishes to test Kevetrin™ as a combination therapy for leukemia with drugs proprietary to one of the world's largest pharmaceutical companies. Pursuant to a confidentiality agreement, Cellceutix cannot identify the University or the pharmaceutical company at this time.
"It seems that the potential of Kevetrin is starting to circle the globe.  This University has a distinguished reputation in hematological diseases," commented Dr. Krishna Menon, Chief Scientific Officer at Cellceutix.  "Our patent has been published. Only when a compound looks extremely promising do major pharmaceutical companies and universities approach a smaller company like Cellceutix.  This gives us a great sense of confirmation as to the potential of Kevetrin and validation in our beliefs about the possible robust number of indications where it could provide a therapeutic benefit."
"Effectively, a University sponsored phase 1 clinical trial on blood cancers will save Cellceutix millions of dollars," added Cellceutix Chief Executive Officer Leo Ehrlich.  "We feel that we are in a phenomenal position with our own clinical trials on solid tumors being conducted at Dana-Farber and Beth Israel Deaconess, additional studies on melanoma and renal cancers at Beth Israel Deaconess in combination with Pfizer drugs, and now this prestigious University wishing to host additional clinical trials on blood cancers in combination with drugs from another of the world's largest pharmaceutical companies. The recent valuations paid for early stage blood cancer therapeutics makes this a very hot segment in biotech and potentially makes the Kevetrin franchise even more valuable."
Therapies for blood cancers such as leukemia are in great demand because of few viable treatments on the market today and a limited number of candidates showing strong promise in clinical research.  Acquisitions this year by major pharmas have demonstrated this demand and value of new compounds.   In January, Celgene Corporation acquired Avila Therapeutics in a deal valued up to $925 million.  Celgene's focus of the acquisition was AVL-292 as a treatment for patients with B-cell blood cancers.  AVL-292 was in Phase I clinical trials at the time of acquisition.
On August 30, a Johnson & Johnson unit, Janssen Biotech Inc., signed a deal to obtain global license rights to blood cancer compound daratumumab from Danish pharmaceutical group Genmab.  All told, the deal could total $1.1 billion for Genmab for a drug that is presently in phase I/II clinical trials.
Rodman and Renshaw Annual Global Investment Conference
Additionally, Cellceutix reports that its CEO Leo Ehrlich and Chief Scientific Officer Dr. Krishna Menon will be presenting a corporate presentation at the Rodman and Renshaw Annual Global Investment Conference's (14th Annual Healthcare Conference) on Tuesday, September 11, 2012, at 3:40 p.m. Eastern Time at the Waldorf Astoria Hotel in New York City.  A live webcast of the presentation will be available at http://www.wsw.com/webcast/rrshq22/ctix.  An archived webcast of the presentation will be available on the Investors page at www.cellceutix.com.
About Kevetrin™
As a completely new class of chemistry in medicine, Kevetrin™ has significant potential to be a major breakthrough in the treatment of solid tumors. Mechanism of action studies showed Kevetrin's unique ability to affect both wild and mutant types of p53 (often referred to as the "Guardian Angel Gene" or the "Guardian Angel of the Human Genome") and that Kevetrin strongly induced apoptosis (cell death), characterized by activation of Caspase 3 and cleavage of PARP. Activation of p53 also induced apoptosis by inducing the expression of p53 target gene PUMA. p53 is an important tumor suppressor that acts to restrict proliferation by inducing cell cycle checkpoints, apoptosis, or cellular senescence.
In more than 50 percent of all human carcinomas, p53 is limited in its anti-tumor activities by mutations in the protein itself. Currently, there are greater than 10 million people with tumors that contain inactivated p53, while a similar number have tumors in which the p53 pathway is partially abrogated by inactivation of other signaling components. This has left cancer researchers with the grand challenge of searching for therapies that could restore the protein's protective function, which Kevetrin appears to be doing the majority of the time.
About Cellceutix
Headquartered in Beverly, Massachusetts, Cellceutix is a publicly traded company under the symbol "CTIX".  It is an emerging bio-pharmaceutical company focused on the development of its pipeline of compounds targeting areas of unmet medical need.  Our flagship compound, Kevetrin™, is an anti-cancer drug which has demonstrated the ability in pre-clinical studies to regulate the p53 pathway and attack cancers which have proven resistant to today's cancer therapies (drug-resistant cancers). Cellceutix also owns the rights to seven other drug compounds, including Prurisol, which is in development for psoriasis, and KM-391 for the treatment of the core symptoms of autism.  More information is available on the Cellceutix web site at www.cellceutix.com.
Safe Harbor Forward-Looking Statements
To the extent that statements in this press release are not strictly historical, including statements as to revenue projections, business strategy, outlook, objectives, future milestones, plans, intentions, goals, future financial conditions, future collaboration agreements, the success of the Company's development, events conditioned on stockholder or other approval, or otherwise as to future events, such statements are forward-looking, and are made pursuant to the safe harbor provisions of the Private Securities Litigation Reform Act of 1995. The forward-looking statements contained in this release are subject to certain risks and uncertainties that could cause actual results to differ materially from the statements made. Factors that may impact Cellceutix's success are more fully disclosed in Cellceutix's most recent public filings with the U.S. Securities and Exchange Commission.
Article originally published on www.secfilings.com.
Cellceutix Corp. (CTIX) Stock Quote and News:
---
Disclaimer: Neither www.otcshowcase.com nor its officers, directors, partners, employees or anyone involved in the publication of the website or newsletters ("us" or "we") is a registered investment adviser or licensed broker-dealer in any jurisdiction whatsoever. Further, we are not qualified to provide any investment advice and we make no recommendation to purchase or sell any securities. The prior article is published as information only for our readers. otcshowcase.com is a third party publisher of news and research. Our site does not make recommendations, but offers information portals to research news, articles, stock lists and recent research. Nothing on our site should be construed as an offer or solicitation to buy or sell products or securities. This site is sometimes compensated by featured companies, news submissions and online advertising. Viper Enterprises, LLC (parent company of OTC Showcase) has been compensated on several occasions for news dissemination and journalism services from Cellceutix Corporation and holds a total of 125,000 shares of 144 restricted stock of Cellceutix Corporation, none of which has been sold to date. Prior compensation is listed in our full disclosure. Please read and fully understand our entire disclaimer at http://www.otcshowcase.com/about-2/disclaimer.