ALR Technologies, Inc. Website



Get connected with ALR Technologies.
View all articles and comment in the ALRT blog
Why is ALRT positioned for exponential growth? Look at these facts…
"The International Diabetes Federation (IDF) is the umbrella organization of over 200 national diabetes associations in over 160 countries. It represents the interests of the growing number of people with diabetes and those at risk. The Federation has been leading the global diabetes community since 1950, and IDF's mission is to promote diabetes care, prevention, and a cure worldwide.
New figures from the 5th edition Diabetes Atlas (see http://www.idf.org/diabetesatlas) indicate that the number of people living with diabetes is expected to rise from 366 million in 2011 to 552 million by 2030. IDF also estimates that as many as 183 million people are unaware that they have diabetes."
In the opinion Dr. Donald M. Berwick, the now former administrator of the Centers for Medicare and Medicaid Services (CMS), "Twenty percent to thirty percent of health spending is "waste" that yields no benefit to patients, and that some of the needless spending is a result of onerous, archaic regulations enforced by his agency." The doctor's estimates of this "waste" amounts to between $150 billion and $250 billion per year — monies that are desperately needed in reducing our country's enormous debt problem and that could also go toward providing better health care service.
Finally, many electronic test strips are being sold illegally and the source of controversy and outrage over a waste of government funds. The Black Market offerings and the subsequent risks involved are not going to disappear on their own, nor will the exorbitant waste of funds relating to non-documented strip reimbursement. Fortunately, steps have been taken in the past to combat similar problems; such as when Medicare and many private insurers began mandating the verification of use for CPAP machines to allow reimbursement for sleep apnea. Given this precedent and the mounting awareness of strip count fraud, it is easy to envision the government taking similar actions to deal with the issues surrounding diabetes test strips. Such action would exponentially grow the usage of technologies such as the HeC System. Medicare provides coverage to 10.9 million diabetes patients and pays over $1 billion a year for test strips alone. With the financial pressures in the healthcare industry to regulate costs and provide better disease management, it would seem likely that further actions are imminent.
All of these factors leave ALR Technologies in the catbird seat and provide plenty of headroom for rapid growth in the short-term. Their Health-e-Connect System is the only technology of its kind that meets all the demands to help CMS control costs and encourage better disease management. Investors are encouraged to check out the ALRT blog to read more on these topics to better understand the complete picture of why this sleeper is so well-aligned to capitalize in 2012.
---
Founded and incorporated under the laws of the State of Nevada in 1998, ALR Technologies Inc. (OTCBB: ALRT) was established to address a growing need in the disease management industry for better patient compliance monitoring.

ALR Technologies is a medical device company providing remote monitoring and care facilitation for patients with diabetes. ALRT has developed the FDA-cleared and HIPAA-compliant Health-e-Connect System which uploads the data from blood glucose meters onto a secure website where clinicians and Diabetes Care Facilitators can better monitor and coordinate the care of diabetes patients. ALRT's system goal is to assist patients to adhere to their care plan, improving the quality of diabetes care and making such care more cost effective to providers.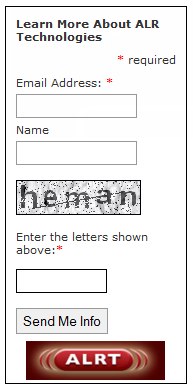 HISTORY OF ALR TECHNOLOGIES, INC.

In 2003, ALR Technologies began marketing the ALRT Medication Reminder line of medication reminder devices. This line of manually programmable reminder devices was soon followed in the market by a PC programmable medication reminder device, the ALRT PC100. At this time, ALR Technologies also developed and introduced a line of medication and treatment reminder devices for the pet market. Named the ALRT Pet Reminder, this line of medication reminders was designed for use with veterinary pharmaceuticals for the prevention of heartworm disease in cats and dogs. By 2005, ALR Technologies' next generation of PC programmable medication reminders was introduced into the market. Called the ALRT PC200, this device was developed to address the requirements of companies providing mail order medications and disease management services.

MANAGEMENT
SIDNEY S. CHAN - Chairman, Chief Executive Officer

Mr. Chan oversees the strategic planning of the company to achieve its mission to deliver innovative technology based solutions to improve health outcomes while reducing health care costs.

Career:

Mr. Chan has been involved in managing and developing ALR Technologies since August 1997 and was instrumental in taking the company public. Prior to ALR, Mr. Chan had an extensive background in structured finance as President and CEO of the Knight's Group of Companies. Prior to the founding of the Knight's Group of Companies Mr. Chan worked for the predecessor companies of RBC Dominion Securities as well as Cominco, the mining subsidiary of Canadian Pacific.

Education:

Mr. Chan is an engineer who obtained his Bachelor of Engineering degree with the distinction in Mineral Economics from McGill University.

LARRY WEINSTEIN - President, Chief Operating Officer

Mr. Weinstein oversees the operations of the company including technology, and medical industry compliance.

Career:

Mr. Weinstein has extensive experience in the development and launch of medical products. His experience includes 11 years with Cordis Corporation, 6 years with DHD Healthcare and most recently, 9 years with PARI Respiratory Equipment as Senior Vice President of Operations at PRE Holding, Inc. and as President, Hydrate, Inc.

Education:

Mr. Weinstein received a Bachelor of Science in Chemical Engineering degree from Rensselaer Polytechnic Institute. He earned both a Master of Science degree in Industrial Engineering and an MBA from the University of Miami.

WILLIAM S. SMITH - Director, Commercial Strategy and External Affairs

Mr. Smith oversees the commercial operations of ALRT. Areas of responsibility include marketing and sales, public affairs and government relations.

Career:

Mr. Smith has worked at senior levels in the private sector and in government for over decade. He served as Managing Director at NSI, a Washington-based government affairs firm, whose clients include major pharmaceutical and biotechnology companies. He spent ten years at Pfizer, Inc., where he was Vice President for U.S. Public Affairs and Policy. In that role, Smith was the lead advisor on U.S. policy issues to Pfizer's major commercial businesses in the United States. Smith also ran Pfizer's state government affairs group, one of the largest such groups in corporate America. Mr. Smith previously worked in government where he was on the staff of two Governors in Massachusetts, was a leadership aide to the Republican Leadership in the U.S. House of Representatives, and was a senior aide in the White House Office of National Drug Control Policy under President George H.W. Bush.

Education:

Mr. Smith is a graduate of Georgetown University and has a Masters in Politics from the Catholic University of America.

JEROME P. HICKEY - Director of Sales and Marketing

Mr. Hickey is coordinating the introduction of national sales and marketing effort in the United States. He is involved in all facets of design, implementation and management of the company's marketing strategy.

Career:

Mr. Hickey was most recently National Account Manager at Medicis Pharmaceutical Company, working with many of the largest healthcare payers in the U.S. Prior to Medicis, Mr. Hickey had extensive experience in sales at Pfizer Inc., rising from a sales representative to assume such positions as Director of Managed Markets Training and Regional Director of Managed Markets for the New York region, one of Pfizer's most important sales regions, with total revenue responsibility exceeding $1 billion.

Education:

Mr. Hickey has a BS in Marketing and a BS in Management from Missouri State University.

DR. JAMES R. GAVIN, III, MD, PhD - Senior Medical Consultant

Dr. Gavin provides strategic advice on clinical aspects of the company's operations with a particular focus on the company's Health-e-Connect Diabetes Management Program and provides strategic input on working with health care payers and providers.

Career:

Dr. Gavin serves as CEO and Chief Medical Officer of Healing Our Village, Inc, Clinical Professor of Medicine at Emory University School of Medicine, and Clinical Professor of Medicine at Indiana University School of Medicine. Dr. Gavin is a former president of the American Diabetes Association. Prior to this, he was president of the Morehouse School of Medicine in Atlanta from 2002-2004. He served as senior scientific officer at the Howard Hughes Medical Institute (HHMI) from 1991 to 2002 and as director of the HHMI-National Institutes of Health Research Scholars Program from 2000 to 2002. Before joining the senior staff of HHMI, Dr. Gavin was professor and chief of the Diabetes Section, acting chief of the Section on Endocrinology, Metabolism, and Hypertension, and William K. Warren Professor for Diabetes Studies at the University of Oklahoma Health Sciences Center, Oklahoma City, Oklahoma. He previously served as an associate professor of medicine at Washington University School of Medicine in St. Louis, Missouri. Dr. Gavin served as a lieutenant commander in the US Public Health Service from 1971 to 1973 and continues to serve as a reserve officer.

Education:

Dr Gavin graduated from Livingstone College in Salisbury, North Carolina, with a degree in chemistry. He earned his PhD in biochemistry from Emory University and his MD degree from Duke University School of Medicine, Durham, North Carolina. He completed his internship, residency and clinical fellowship training at Barnes Hospital of Washington University in St. Louis.

Awards:

Among the many honors Dr. Gavin has received are the Daniel Hale Williams Award, the E.E. Just Award, the Herbert Nickens Award, the Daniel Savage Memorial Award, the Emory University Medal for Distinguished Achievement, the Banting Medal for Distinguished Service from the American Diabetes Association, the Distinguished Alumni Award from the Duke University School of Medicine, and the Internist of the Year from the National Medical Association.

DR. KENT STONEKING, PHARM.D., CDE - Director, Diabetes Care Facilitation

Dr. Stoneking oversees the hiring, training, and ongoing activities of ALRT's Diabetes Care Facilitators (DCFs) who monitor the data of diabetes patients and coordinate care with clinicians, caregivers, health plans and others.

Career:

Dr. Stoneking is a Certified Diabetes Educator (CDE) who has gained extensive, hands-on experience working with a network of internal medicine and family practice physicians to assist patients with diabetes education and self-management training. He received his Doctor of Pharmacy from the University of Tennessee and is an affiliate member of the American Diabetes Association and the American Pharmacists Association. Dr. Stoneking is Chair of Pharmacy Practice at Union University School of Pharmacy, Jackson, Tennessee.

Education:

Dr. Stoneking received his B.S. in biology from the University of Memphis and his Pharm.D. from the University of Tennessee College of Pharmacy.
---
SEC FILINGS
ALR Technologies, Inc. SEC Filings
SHARE STRUCTURE (approximate as of October 2013)
Outstanding Shares: 237,477,909
Float: approximately 100,000,000
TRANSFER AGENT
Pacific Stock Transfer Company
4045 South Spencer St., Suite 403
Las Vegas, NV, 89119
702-361-3033
www.pacificstocktransfer.com
[email protected]

CONTACT INFORMATION

ALR Technologies
7400 Beaufont Springs Dr.
Suite 300
Richmond, VA 23225
Tel: 804-554-3500
Email: [email protected]
Website: www.alrt.com
Post a comment in the ALRT blog
ALR Technologies (ALRT) Stock Quote and News:
---
Disclaimer: Neither http://www.otcshowcase.com nor its officers, directors, partners, employees or anyone involved in the publication of the website or newsletters ("us" or "we") is a registered investment adviser or licensed broker-dealer in any jurisdiction whatsoever. Further, we are not qualified to provide any investment advice and we make no recommendation to purchase or sell any securities. The prior article is published as information only for our readers. otcshowcase.com is a third party publisher of news and research. Our site does not make recommendations, but offers information portals to research news, articles, stock lists and recent research. Nothing on our site should be construed as an offer or solicitation to buy or sell products or securities. This site is sometimes compensated by featured companies, news submissions and online advertising. Viper Enterprises, LLC (parent company of OTC Showcase) has been compensated three thousand dollars per month for consultation and journalism services and to manage a comprehensive investor relations/awareness program by ALR Technologies. Please read and fully understand our entire disclaimer at http://www.otcshowcase.com/?page_id=190.