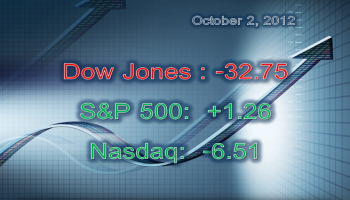 American stocks were mixed with the Dow edging lower and the S&P 500 and Nasdaq squeaking ahead on Tuesday as a lack of conviction kept investors on the sidelines. Sentiment is torn ahead of quarterly reports starting to flow in and the euro zone's financial turmoil as Spain is in focus in need of a bailout package.
The Dow Jones Industrial average tailed off 32.75 points to finish Tuesday at 13,482.40
The S&P 500 eked out a gain of 1.26 points to 1,445.75, while the tech-rich Nasdaq added 6.51 points to 3,120.04
In the United States, automakers released September sales figures. Chrysler, which is not publicly traded, reported a 12% year-over-year increase in U.S. sales last month. It was also the best September sales figure for that company since 2007.
Shares of Cell Therapeutics closed up, albeit well off highs, after the drug maker said that its Opaxio received orphan drug designation from the Food and Drug Administration as a potential treatment for a form of malignant brain cancer.

Toyota Motor also beat expectations, reporting a sales jump of 41.5% from year-ago levels. General Motors reported only a 1.5% increase from year-earlier, while Ford sales slipped 0.1%.
Analysts say that while a major piece of economic news, such as Friday"s employment report from the U.S. Labor Department, or progress in Europe could bring investors back into the market, some say that even those events might not be enough.
Shares of ArQule took a nosedive after it and Japanese partner Daiichi Sankyo Co. said that they would be discontinuing a late-stage clinical trial on a new drug candidate for non-small cell lung cancer after an independent review committee decided it probably wouldn't increase overall survival rates.
Shares of MetroPCS"s surged nearly 18% after Deutsche Telekom confirmed it was in talks with the struggling wireless carrier about possibly merging with its T-Mobile USA unit.
Zillow"s stock lost ground after the Securities and Exchange Commission released a letter that questioned why the real-estate site didn"t disclose certain sales data and updated information about its accounting methods.
Shares of clothing retailer Express sank more than 22% in price after the company lowered its fiscal third-quarter expectations.
The price on the benchmark 10-year U.S. Treasury gained back lost ground, lowering yields to 1.61% from Monday"s 1.62%. Treasury prices and yields move in opposite directions.
Oil prices lost 76 cents to $91.72 U.S. a barrel.
Gold prices lost $7.70 to $1,775.60 U.S. an ounce.
Down Jones Industrial Average (DJIA) Stock Quote and News:
---
Disclaimer: Neither www.otcshowcase.com nor its officers, directors, partners, employees or anyone involved in the publication of the website or newsletters ("us" or "we") is a registered investment adviser or licensed broker-dealer in any jurisdiction whatsoever. Further, we are not qualified to provide any investment advice and we make no recommendation to purchase or sell any securities. The prior article is published as information only for our readers. otcshowcase.com is a third party publisher of news and research. Our site does not make recommendations, but offers information portals to research news, articles, stock lists and recent research. Nothing on our site should be construed as an offer or solicitation to buy or sell products or securities. This site is sometimes compensated by featured companies, news submissions and online advertising. Viper Enterprises, LLC (parent company of OTC Showcase) has received no compensation for this article from and owns no shares of the aforementioned company(ies). Please read and fully understand our entire disclaimer at http://www.otcshowcase.com/about-2/disclaimer.