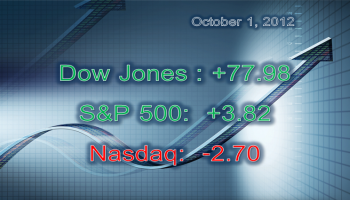 A rally on Wall Street lost steam Monday afternoon following comments from Federal Reserve chairman Ben Bernanke. Stocks had started the day strong as data from the Institute for Supply Management showed that its manufacturing index climbed into expansion territory for the first time after three straight months of contraction. Traders also found solace in words from Charles Evans, president of the Federal Reserve Bank of Chicago, who praised the Fed's initiation of QE3 in an interview with CNBC.
Data from overseas stymied sentiment to a degree and kept traders cautious. Sentiment in the business sector of Japan further deteriorated and the Chinese economy continues to show stubborn growth. Japan's quarterly Takan survey registered a negative 3 for the latest quarter compared to a negative 1 reading in June. Readings below zero indicates that there are more pessimists than optimists about business conditions improving at large manufacturers.
Further adding to overseas negativity, Eurostat, the European Union's statistical office, reported that the unemployment rate across the 17-country euro zone hit a record 11.4 percent in August. Technically, there was no increase, as the agency revised its June and July figures upwardly to 11.4 percent from 11.2% and 11.3%, respectively, which were both record highs. Compared to August 2011, the 2012 figure is 1.2 points higher.

The Dow Jones Industrial average still finished positive by 77.98 points to end the quarter's first session at 13,515.11.
The S&P 500 gained 3.82 points to 1,444.49, while the tech-rich Nasdaq actually backpedaled 2.70 points to 3,113.53.
Financial stocks remained solidly higher. Shares of Goldman Sachs were up almost 3%, while Bank of America and JPMorgan Chase rose nearly 2%.
Shares of Netflix rose after a well-known hedge fund manager said that the company is due for an Amazon-style ride over the next decade. Speaking at the Value Investing Congress in New York Monday, the same expert also made a case for Berkshire Hathaway, which he also touted at last year"s conference.
Shares of Ceradyne surged 43% after 3M announced it would buy the ceramic components maker for $860 million U.S.
Nokia shares gained ground on news the mobile phone maker signed a mapping service deal with Oracle.
The Fed chief said the economy "simply has not been growing fast enough recently to make significant progress in bringing down unemployment." The unemployment rate has been stuck just above 8% since the start of the year.
On the economic calendar, the Institute for Supply Management's manufacturing index, a survey of purchasing managers, came in at 51.5 for September, marking the first expansion in the U.S. manufacturing sector in four months.
The price on the benchmark 10-year U.S. Treasury gained, lowering yields to 1.62% from Friday's 1.64%. Treasury prices and yields move in opposite directions.
Oil prices took on six cents to $92.27 U.S. a barrel.
Gold prices gained $9.40 to settle at $1,783.40 U.S. an ounce.
Down Jones Industrial Average (DJIA) Stock Quote and News:
---
Disclaimer: Neither www.otcshowcase.com nor its officers, directors, partners, employees or anyone involved in the publication of the website or newsletters ("us" or "we") is a registered investment adviser or licensed broker-dealer in any jurisdiction whatsoever. Further, we are not qualified to provide any investment advice and we make no recommendation to purchase or sell any securities. The prior article is published as information only for our readers. otcshowcase.com is a third party publisher of news and research. Our site does not make recommendations, but offers information portals to research news, articles, stock lists and recent research. Nothing on our site should be construed as an offer or solicitation to buy or sell products or securities. This site is sometimes compensated by featured companies, news submissions and online advertising. Viper Enterprises, LLC (parent company of OTC Showcase) has received no compensation for this article from and owns no shares of the aforementioned company(ies). Please read and fully understand our entire disclaimer at http://www.otcshowcase.com/about-2/disclaimer.