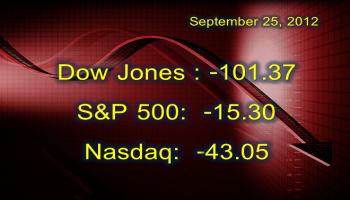 U.S. stocks drifted lower Tuesday afternoon as worries about global economic growth overshadowed positive reports on the U.S. housing market and consumer confidence.
The Dow Jones Industrial average was sharply lower, by 101.37 points, to finish at 13,457.50
The S&P 500 index subtracted 15.30 points, to 1,441.59, and the Nasdaq Composite Index got bruised 43.06 points to 3,117.73
Markets rose at the beginning of trading, on good vibes regarding housing and consumer confidence, but a gloomy outlook from Caterpillar weighed on sentiment. Shares of the construction and mining equipment maker slid, making it the worst performer on the Dow, after it cut its forecast for 2015.
Speaking at an industry conference in Las Vegas on Monday, Caterpillar CEO Doug Oberhelman said that the economic slowdown has been sharper than the company was anticipating, and modest growth over the next few years will affect the company"s profitability.
The move downward also came after Federal Reserve Bank of Philadelphia president Charles Plosser said the central bank's latest round of stimulus measures is unlikely to help growth.
Investors continue to keep tabs on Europe's ongoing debt crisis as European Central Bank President Mario Draghi meets with German Chancellor Angela Merkel.

International Monetary Fund head Christine Lagarde warned Monday that the continent's policymakers need to implement a centralized banking authority and carry through with the European Stability Mechanism, a planned €500-billion fund to provide loans for troubled members of the 17-nation currency union.
Shares of Tesla sank Tuesday, after the electric car maker said production of its new Model S sedan will be slower than anticipated. The company said it has completed 255 Model S cars as of this past Sunday.
Payroll company Paychex's shares slipped after it posted strong first-quarter earnings.
Shares of tech company Red Hat fell following an earnings report that ended up short of expectations.
Google shares rose to fresh all-time high of $764.89 U.S. Tuesday. Google's stock has rallied 16% this year as the company continues to dominate in online searches and makes strides with its Android mobile platform.
Facebook edged lower, extending its losses from Monday's 9% plunge in the wake of a $15 U.S. price call for Facebook by Barron's.
Economically speaking, the S&P/Case-Shiller index showed home prices in 20 major U.S. cities rose for a sixth consecutive month, as the long-battered real estate market continues to recover.
Moreover, consumer confidence in the U.S. rose to a seven-month high in September. The Conference Board's index increased to 70.3 this month from 61.3 in August, figures from the New York-based private research group showed today.
The September figure exceeded the most optimistic projection of economists, whose median estimate in a Bloomberg survey called for 63.1.
The price on the benchmark 10-year U.S. Treasury gained ground on the day, lowering yields to 1.68% from Monday's 1.72%. Treasury prices and yields move in opposite directions.
Oil for November delivery sank 76 cents to $91.17 U.S. a barrel.
Gold futures for December delivery added $1.60 to $1,766.20 an ounce.
Dow Jones Industrial Average (DJIA) Stock Quote and News:
---
Disclaimer: Neither www.otcshowcase.com nor its officers, directors, partners, employees or anyone involved in the publication of the website or newsletters ("us" or "we") is a registered investment adviser or licensed broker-dealer in any jurisdiction whatsoever. Further, we are not qualified to provide any investment advice and we make no recommendation to purchase or sell any securities. The prior article is published as information only for our readers. otcshowcase.com is a third party publisher of news and research. Our site does not make recommendations, but offers information portals to research news, articles, stock lists and recent research. Nothing on our site should be construed as an offer or solicitation to buy or sell products or securities. This site is sometimes compensated by featured companies, news submissions and online advertising. Viper Enterprises, LLC (parent company of OTC Showcase) has received no compensation for this article from and owns no shares of the aforementioned company(ies). Please read and fully understand our entire disclaimer at http://www.otcshowcase.com/about-2/disclaimer.