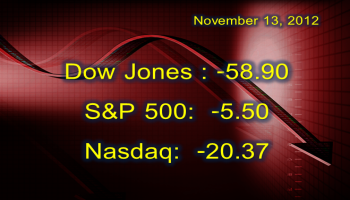 Wall Street was lower again on Tuesday while traders fretted over a delay in organizing a crucial installment of bailout money for Greece and the approaching "fiscal cliff" in the United States.
The Dow Jones Industrials dumped 58.90 points to finish the session at 12,756.20.
The S&P 500 staggered 5.50 points to 1,374.53, and the Nasdaq Composite Index withered 20.37 points to 2,883.89.
Lawmakers are trying to strike a deal that prevents the onset of sharp spending cuts and tax increases in January. President Obama plans to meet with union leaders on Tuesday, a number of business leaders on Wednesday and then Congressional leaders on Friday.
Windows chief Steven Sinofsky, heir apparent to Microsoft CEO Steve Ballmer, left the company late Monday. Sinofsky had been at Microsoft since 1989, trusted with overseeing many of the company's core products — including Office and the recent Windows 8 debut.
Shares of Dow component Home Depot rose after the company beat sales and earnings forecasts. The nation's largest homebuilding supply retailer raised its guidance for the current quarter, and said it's seeing a beginning in the "healing of the housing market."
Dick's Sporting Goods beat analyst expectations on both income and revenue and raised its guidance for fourth-quarter sales. Michael Kors Holdings reported quarterly earnings and revenue that beat expectations.

Meanwhile, Monster Beverage shares were up 2% after the company announced plans to repurchase up to $250 million U.S. worth of its own common stock.
Saks reported earnings in line with forecasts but fell short on revenue. The retailer lowered its sales guidance for the fourth quarter, citing disruptions from Hurricane Sandy.
Shares of TJX rose after the parent of T.J. Maxx and Marshalls reported that third-quarter sales and earnings rose.
After the bell, Cisco Systems will release its results.
Economically speaking, the Treasury Department reported a larger-than-expected deficit of $119.9 billion U.S. for October, compared with an expected shortfall of $113 billion U.S.
The price on the benchmark 10-year U.S. Treasury gained ground early Tuesday, lowering yields to 1.59% from Friday's 1.61%. Treasury prices and yields move in opposite directions.
Oil prices surrendered 30 cents to $85.31 U.S. a barrel.
Gold prices dropped $5.90 an ounce to $1,725.20 U.S.
Dow Jones Industrial Average (DJIA) Stock Quote and News:
---
Disclaimer: Neither www.otcshowcase.com nor its officers, directors, partners, employees or anyone involved in the publication of the website or newsletters ("us" or "we") is a registered investment adviser or licensed broker-dealer in any jurisdiction whatsoever. Further, we are not qualified to provide any investment advice and we make no recommendation to purchase or sell any securities. The prior article is published as information only for our readers. otcshowcase.com is a third party publisher of news and research. Our site does not make recommendations, but offers information portals to research news, articles, stock lists and recent research. Nothing on our site should be construed as an offer or solicitation to buy or sell products or securities. This site is sometimes compensated by featured companies, news submissions and online advertising. Viper Enterprises, LLC (parent company of OTC Showcase) has received no compensation for this article and owns no shares of the aforementioned company(ies). Please read and fully understand our entire disclaimer at http://www.otcshowcase.com/about-2/disclaimer.