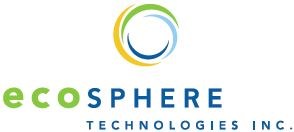 Ecosphere Technologies, Inc. (OTCBB: ESPH) said Monday that it delivered two more Ozonix EF80 units to Hydrozonix LLC as part of a long-term contract with water treatment solutions company. Hydrozonix is a strategic alliance of a consortium of the principals at Phillips and Jordan, Inc., the Siboney Group and PBA Holdings that provides mobile, eco-friendly water treatment solutions to the oil and gas exploration and production industry.
Stuart, Florida-based Ecosphere's Ozonix products utilize patented, non-chemical oxidation technologies to eliminate liquid chemicals from wastewater treatment operations. A single Ozonix oxidation system can process up to 3,300 gallons of water per minute; treating the polluted water to levels suitable for re-use.
The latest two units bring the total units delivered to Hydrozonix to 12. Ecosphere is now working on production of the next two units for delivery, according to today's corporate statement. The last two units were delivered in the third quarter.

Since delivery of the first unit in September 2011, Hydrozonix has treated about 19 million barrels (nearly 800 million gallons) of water with the Ozonix EF80 units, enabling 100 percent recycling of flowback and produced waters.
"Hydrozonix now has a fleet of Ozonix EF80 units that are being deployed in a variety of shale plays throughout the U.S. to continue to extend the reach of our patented Ozonix technology," commented John Brewster, Chairman and chief executive at Ecosphere.
In November, the Ecosphere reported third-quarter revenue of $7.3 million, broken down into $6.2 million in equipment sales and $1.1 million in field service sales. Gross profit totaled $2.5 million. Net income for the quarter was $300,000, marking the third consecutive profitable quarter for the company.
In the first nine months of 2012, revenues from equipment and licensing equaled $17.6 million, a 212 percent improvement of the same period in 2011. Field service revenue in the nine months through September slid by 7 percent to $6.7 million compared to the year prior period. Gross profit in the nine months was $9.3 million, a 56% increase over the year prior timeframe. Net income totaled $1.2 million, or 1 cent per common share. The quarter ended with the company having $3.7 million in cash on hand.
Shares of have soared in 2013 so far. After hitting 32 cents each in December, a steady rise to today's trading price of 49 cents has followed, representing a 53 percent appreciation in value.
Ecosphere Technologies (ESPH) Stock Quote and News:
---
Disclaimer: Neither www.otcshowcase.com nor its officers, directors, partners, employees or anyone involved in the publication of the website or newsletters ("us" or "we") is a registered investment adviser or licensed broker-dealer in any jurisdiction whatsoever. Further, we are not qualified to provide any investment advice and we make no recommendation to purchase or sell any securities. The prior article is published as information only for our readers. otcshowcase.com is a third party publisher of news and research. Our site does not make recommendations, but offers information portals to research news, articles, stock lists and recent research. Nothing on our site should be construed as an offer or solicitation to buy or sell products or securities. This site is sometimes compensated by featured companies, news submissions and online advertising. Viper Enterprises, LLC (parent company of OTC Showcase) has received no compensation for this article from and owns no shares of the aforementioned company(ies). Please read and fully understand our entire disclaimer at http://www.otcshowcase.com/about-2/disclaimer.