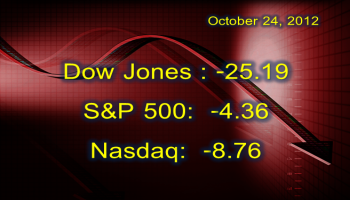 Stocks traded in a narrow range Wednesday afternoon, as investors found little reason to place any big bets with earnings season in full-bloom. Earnings and outlooks are keeping investors on the sidelines as business overseas is hamstringing growth for major corporations. The Wall Street slide on Wednesday added to triple-digit losses on Tuesday and made it four out of five days with red closes that have yanked almost 500 points from the Dow Jones Industrial Average. Today's close for the Dow was its lowest since September 3.
The Dow faded 25.19 points to end Wednesday at 13,077.30.
The S&P 500 index slid 4.36 points to 1,408.75, while the Nasdaq dipped 8.77 points to 2,981.70.
Earnings from Facebook helped reverse some of the gloom surrounding third quarter corporate results. Investors were relieved that Facebook's earnings came in as expected, and sales rose 24%.
Tractor Supply Co. reported third-quarter profits increasing to $50.02 million, or 69 cents a share, from $42.73 million, or 58 cents a share, in the year prior quarter. Revenue for Q3 increased from $977.8 million last year to $1.07 billion in the latest quarter. The revenue total was spot on with analyst predictions and earnings per share were 2 cents higher. The Brentwood, Tennessee-based company also boosted its full-year 2012 earnings outlook to between $3.63 and $3.69 a share from previous estimates of $3.58 to $3.66. Shares still fell to $93.00 in after-hours trading, a drop of 2.27 percent.
Boeing reported earnings that beat analysts" expectations and raised its profit outlook for the year. By late afternoon, the aircraft manufacturer's stock dipped slightly, after being among the biggest gainers on the Dow for most of the day. AT&T, another of the major blue chips, edged lower despite activating 1.3 million iPhones during the quarter.

Zynga Inc. didn't surprise anyone in posting a loss for the third quarter, but news of a real-money gaming deal with bwin.party in the United Kingdom and a $200 million share buyback helped lift the embattled share price after the closing bell. On an adjusted basis, Zynga's loss for the quarter was $361,000, or nil per share. Revenue rose 3 percent to $317 million. The figures topped analysts' predictions of a 1 cent per share loss and revenue of $256.4 million. Shares faded 3.23% to a new all-time closing price low of $2.13 during normal trading hours, but surged by about 13 percent in after-market trading back up to $2.42.
Shares of LinkedIn and Yelp found traction as well with Zynga feeling some bullishness.
Local business review website Angie's List has never posted a profit and the latest quarter wasn't any different. The company posted a loss of $18.5 million, or 32 cents per share, compared with a loss of $17.4 million, or 66 cents per share a year earlier as the number of shares outstanding more than doubled. On the bright side, revenue leapt by 75 percent to $42 million. Wall Street was expected Angie to notch $41 million in revenue and a loss of 33 cents per share. The analyst beat helped shares jump almost 14 percent in after-hours trading to $10.35.
The Manhattan U.S. attorney filed a $1 billion U.S. lawsuit against Bank of America Corp for what it claims are the bank's fraudulent practices underwriting mortgages through Fannie Mae and Freddie Mac
Netflix shares plunged nearly 12%, after the company reported disappointing earnings for new streaming subscriptions and offered weak guidance.
Also diving were shares of F5 Networks as the networking equipment maker said that it expects fiscal first-quarter earnings of $1.14 to $1.16 a share on revenue of $363 million to $370 million. Analysts were calling for earnings of $1.20 a share on $373 million in revenue. Shares doffed-of f more than 10 percent in after-market activity to $83.49.
On the U.S. economic front, new home sales for September beat economists" expectations, offering yet another sign of an improving housing market. The U.S. Census Bureau said that new home sales for September came in at an annual rate of 389,000, climbing 5.7% to hit a two-year high.
Investors shrugged off the U.S. Federal Reserve"s latest policy statement, which, as expected, didn"t signal any major changes to interest rates or the central bank"s plan to stimulate the economy through large bond-buying programs.
The price of the benchmark 10-year U.S. Treasury sagged, raising the yield to 1.78% from Tuesday"s 1.76%. Treasury prices and yields move in opposite directions.
Oil prices fell $1.05 to $85.62 U.S. a barrel.
Gold prices dropped back $6.90 to $1,702.50 U.S. an ounce.
Dow Jones Industrial Average (DJIA) Stock Quote and News:
---
Disclaimer: Neither www.otcshowcase.com nor its officers, directors, partners, employees or anyone involved in the publication of the website or newsletters ("us" or "we") is a registered investment adviser or licensed broker-dealer in any jurisdiction whatsoever. Further, we are not qualified to provide any investment advice and we make no recommendation to purchase or sell any securities. The prior article is published as information only for our readers. otcshowcase.com is a third party publisher of news and research. Our site does not make recommendations, but offers information portals to research news, articles, stock lists and recent research. Nothing on our site should be construed as an offer or solicitation to buy or sell products or securities. This site is sometimes compensated by featured companies, news submissions and online advertising. Viper Enterprises, LLC (parent company of OTC Showcase) has received no compensation for this article from and owns no shares of the aforementioned company(ies). Please read and fully understand our entire disclaimer at http://www.otcshowcase.com/about-2/disclaimer.