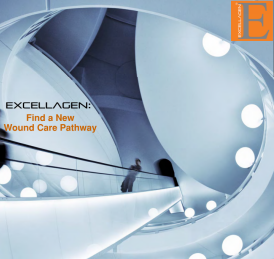 An updated presentation for Excellagen has been published on the Cardium Therapeutics (NYSE MKT: CXM) website.  The pdf file is available for viewing/dowloading at http://phx.corporate-ir.net/phoenix.zhtml?c=77949&p=irol-presentations.
Recently voted as a top ten podiatry innovations in 2012 by the publication Podiatry Today, Excellagen is an FDA-cleared formulated collagen topical gel (2.6%) designed for use with debridement and engineered to support a favorable wound healing environment and platelet activation for non-healing lower extremity diabetic ulcers and other dermal wounds.  Excellagen's unique high-molecular weight structured collagen formulation is topically applied through easy-to-control, pre-filled, sterile, single-use syringes and its viscosity-optimized gel formulation is designed for application at only one or two week intervals.  Excellagen is intended for professional use following standard debridement procedures in the presence of blood cells and platelets, which are involved with the release of endogenous growth factors.

Cardium's market research indicates that physicians seek easy-to-use products to reduce preparation time and facilitate product application - and Excellagen's unique, ready-to-use syringe-based collagen gel requires no thawing or mixing.  Because of its specialized formulation, only a thin layer needs to be applied over the wound area, and one syringe containing 0.5 cc of Excellagen covers wounds up to 5cm2 in size using the supplied 24-gauge sterile, single-use flexible applicator tip.  To learn more about Excellagen and for product ordering information, please visit
http://www.excellagen.com
and view the information video, "Excellagen: A New Wound Care Pathway for Diabetic Foot Ulcers", at
http://www.excellagen.com/excellagen-video.html
.
Cardium Therapeutics (CXM) Stock Quote and News:
---
Disclaimer: Neither www.otcshowcase.com nor its officers, directors, partners, employees or anyone involved in the publication of the website or newsletters ("us" or "we") is a registered investment adviser or licensed broker-dealer in any jurisdiction whatsoever. Further, we are not qualified to provide any investment advice and we make no recommendation to purchase or sell any securities. The prior article is published as information only for our readers. otcshowcase.com is a third party publisher of news and research. Our site does not make recommendations, but offers information portals to research news, articles, stock lists and recent research. Nothing on our site should be construed as an offer or solicitation to buy or sell products or securities. This site is sometimes compensated by featured companies, news submissions and online advertising. Viper Enterprises, LLC (parent company of OTC Showcase) has been compensated two thousand five hundred dollars by Cardium Therapeutics for its efforts in managing the dissemination of public corporate information on its website and to its database of subscribers and across select financial and social media websites. Please read and fully understand our entire disclaimer at http://www.otcshowcase.com/about-2/disclaimer.