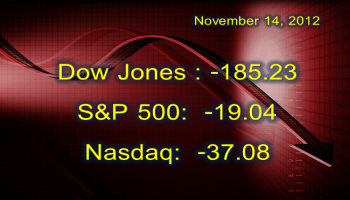 U.S. stocks fell more than 1 percent Wednesday as fears of turmoil in the Middle East added to ongoing concerns about a fiscal showdown in the United States.  In the six trading days since the presidential election, the Dow Jones has lost nearly 700 points, or about 5 percent.
On Wednesday, the Dow Jones Industrials toppled 185.23 points, or 1.5%, to 12,570.95.
The S&P 500 fell 19.04 points to 1,355.49, and the Nasdaq Composite Index tumbled 37.08 points to 2,846.81.
Stocks have been under pressure this month as concerns about the fiscal cliff have dominated the market following the election of President Obama.
Most investors expect a compromise, but they are not taking any chances until Obama and Republicans in Congress reach a deal to avert the onset of automatic tax hikes and spending cuts that could push the economy into recession.

Shares of Teavana surged 52% after Starbucks announced plans to buy the tea company for $620 million in cash. Starbucks stock was down about 2%.
Facebook shares rose more than 12% even though more than 800 million shares became available to be sold. Like many initial public offerings, Facebook's May 18 debut included a "lockup" agreement that requires some shareholders from selling for a certain period.
On Wednesday, early employees and investors got their first chance to sell about 773 million shares, as well as another 31 million restricted stock units.
Shares of retailer Abercrombie & Fitch shot up 32% after the company reported sales and earnings that towered over expectations and raised its full-year earnings guidance above even the most bullish forecasts.
Staples shares rose after the company beat third-quarter earnings estimates but fell short on revenue.
Cisco shares rose about 5% after the tech giant reported earnings and sales data that beat analysts' expectations late Tuesday.
On the economic board, the U.S. government reported retail sales fell 0.3% in October, citing a negative impact from Superstorm Sandy. It was slightly worse than the 0.2% decline forecast by economists.
Meanwhile, prices at the wholesale level decreased 0.2%, according to the Producer Price Index report. They had been expected to increase by 0.1%, led by higher energy and food prices.
The Census Bureau said business inventories rose 0.7% in September, slightly better than the 0.6% rise economists had forecast.
Minutes from the latest Federal Reserve policy meeting suggest the central bank will continue to buy assets once its so-called Operation Twist program ends.
The price on the benchmark 10-year U.S. Treasury gained in the afternoon, lowering yields back to Tuesday's 1.59%. Treasury prices and yields move in opposite directions.
Oil prices regained 87 cents to $85.88 U.S. a barrel.
Gold prices took on $2.20 an ounce to $1,727.00 U.S.
Dow Jones Industrial Average (DJIA) Stock Quote and News:
---
Disclaimer: Neither www.otcshowcase.com nor its officers, directors, partners, employees or anyone involved in the publication of the website or newsletters ("us" or "we") is a registered investment adviser or licensed broker-dealer in any jurisdiction whatsoever. Further, we are not qualified to provide any investment advice and we make no recommendation to purchase or sell any securities. The prior article is published as information only for our readers. otcshowcase.com is a third party publisher of news and research. Our site does not make recommendations, but offers information portals to research news, articles, stock lists and recent research. Nothing on our site should be construed as an offer or solicitation to buy or sell products or securities. This site is sometimes compensated by featured companies, news submissions and online advertising. Viper Enterprises, LLC (parent company of OTC Showcase) has received no compensation for this article and owns no shares of the aforementioned company(ies). Please read and fully understand our entire disclaimer at http://www.otcshowcase.com/about-2/disclaimer.