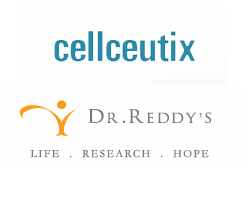 Beverly, Massachusetts-based Cellceutix Corporation (OTCBB: CTIX) reported this morning that they have chosen Dr. Reddy's Laboratories Ltd. (NYSE: RDY) to synthesize and manufacture Prurisol, Cellceutix's lead anti-psoriasis drug candidate.  Cellceutix will be advancing Prurisol into Phase II/III clinical trials under guidance from the Food and Drug Administration that the drug qualifies for a 505(b)(2) designation.
Previous announcements from Cellceutix have shown the robust results in animals treated with Prurisol against methotrexate in the company's laboratory studies.  More on Prurisol can be viewed at:  http://cellceutix.com/prurisol/.
The company also said that they will be presenting at the upcoming Rodman & Renshaw Investor Conference in New York City and provided a brief update on the status of clinical trials on Kevetrin™, their lead anti-cancer drug candidate that is being researched at Dana-Farber and Beth Israel Deaconess.  More on Kevetrin can be viewed at:  http://cellceutix.com/kevetrin/.

Today's press release:
Cellceutix Anti-Psoriasis Drug Advances Toward Phase 2 Clinical Trials With Selection of Dr. Reddy's Laboratories for Manufacturing
Cellceutix Corporation (OTCBB: CTIX) (the "Company"), a clinical stage biopharmaceutical company focused on discovering small molecule drugs for hard to treat diseases, announces that it has concluded negotiations and selected Dr. Reddy's Laboratories Ltd. ("Dr. Reddy's"), a New York Stock Exchange-listed company traded under the ticker "RDY," for the manufacturing of Prurisol™, the Company's new drug candidate for the treatment of psoriasis.
Dr. Reddy's has extensive knowledge of this technology and has expressed excitement to work on this project for Cellceutix. Dr. Reddy's will manufacture Prurisol for oral dosing at levels sufficient for the Company's planned phase 2/3 clinical trials. Currently in meetings with clinical sites in Europe and the U.S., the Company intends to begin the clinical trials upon completion of the manufacturing.
"We have great expectations for this drug because it performed amazingly in lab studies. Our research showed Prurisol to be much more effective than methotrexate, a standard of care treatment for advanced psoriasis, as there was no recurrence of psoriasis on the animals. Visually, it eliminated all indications of psoriasis. We wanted to use only a world class manufacturer and Dr. Reddy's is internationally-renowned for their excellence in research, manufacturing and distribution," said Leo Ehrlich, Chief Executive Officer at Cellceutix. "As we continue to emerge as a leading drug developer, we are committed to working with companies and organizations that have high standards and a strong reputation. Dr. Reddy's is a perfect fit for Prurisol. Prurisol has a complex process for synthesizing and manufacturing in oral form and we are very pleased to have Dr. Reddy's handling those formulations."
Additionally, Cellceutix reports that its CEO Leo Ehrlich and Chief Scientific Officer Dr. Krishna Menon will be presenting a corporate presentation at the Rodman and Renshaw Annual Global Investment Conference's (14th Annual Healthcare Conference) on Tuesday, September 11, 2012, at 3:40 p.m. Eastern Time at the Waldorf Astoria Hotel in New York City. A live webcast of the presentation will be available at http://www.wsw.com/webcast/rrshq22/ctix. An archived webcast of the presentation will be available on the Investors page at www.cellceutix.com.
Cellceutix also updated its shareholders on the status of Kevetrin's clinical trials at Harvard Cancer Center's Dana-Farber Cancer Institute and Beth Israel Deaconess Medical Center. Changes were made to the protocol which necessitated Institutional Review Board (IRB) approval. We have been informed that the IRB meeting should take place before September 19, 2012. After IRB approval, the next steps are activation, recruitment and enrolling which we approximate will take about two weeks. Dosing can begin at this point.
About Psoriasis
Cellceutix has previously disclosed images of mice treated with Prurisol™ demonstrating its effectiveness as compared to methotrexate, a standard care treatment for psoriasis today. More information on Prurisol™ and those images can be found at www.cellceutix.com
According to the National Psoriasis Foundation, psoriasis is a chronic, autoimmune disease that appears on the skin. It occurs when the immune system sends out faulty signals that speed up the growth cycle of skin cells. Psoriasis is the most prevalent autoimmune disease in the United States, affecting as many as 7.5 million people, or 2.2 percent of the U.S. population, with associated costs of $11.25 billion annually. According to the World Psoriasis Day consortium, as many as 125 million people worldwide (2 to 3 percent of the Earth's population) have psoriasis.
About Dr. Reddy's
Dr. Reddy's Laboratories Ltd. is an integrated global pharmaceutical company, committed to providing affordable and innovative medicines for healthier lives. Through its three businesses — Pharmaceutical Services and Active Ingredients, Global Generics and Proprietary Products — Dr. Reddy's offers a portfolio of products and services including APIs, custom pharmaceutical services, generics, biosimilars, differentiated formulations and NCEs. Therapeutic focus is on gastro-intestinal, cardiovascular, diabetology, oncology, pain management, anti-infective and pediatrics. Major markets include India, USA, Russia and CIS, Germany, UK, Venezuela, S. Africa, Romania, and New Zealand. For more information, log on to: www.drreddys.com.
About Cellceutix
Headquartered in Beverly, Massachusetts, Cellceutix is a publicly traded company under the symbol "CTIX". It is an emerging bio-pharmaceutical company focused on the development of its pipeline of compounds targeting areas of unmet medical need. Our flagship compound, Kevetrin™, is an anti-cancer drug which has demonstrated the ability in pre-clinical studies to regulate the p53 pathway and attack cancers which have proven resistant to today's cancer therapies (drug-resistant cancers). Cellceutix also owns the rights to seven other drug compounds, including KM-133, which is in development for psoriasis, and KM-391 for the treatment of the core symptoms of autism. More information is available on the Cellceutix web site at www.cellceutix.com.
Safe Harbor Forward-Looking Statements
To the extent that statements in this press release are not strictly historical, including statements as to revenue projections, business strategy, outlook, objectives, future milestones, plans, intentions, goals, future financial conditions, future collaboration agreements, the success of the Company's development, events conditioned on stockholder or other approval, or otherwise as to future events, such statements are forward-looking, and are made pursuant to the safe harbor provisions of the Private Securities Litigation Reform Act of 1995. The forward-looking statements contained in this release are subject to certain risks and uncertainties that could cause actual results to differ materially from the statements made. Factors that may impact Cellceutix's success are more fully disclosed in Cellceutix's most recent public filings with the U.S. Securities and Exchange Commission.
Cellceutix Corp.
Leo Ehrlich
(978) 236-8717
Cellceutix (CTIX) Stock Quote and News:
Dr. Reddy's Laboratories (RDY) Stock Quote and News:
---
Disclaimer: Neither www.otcshowcase.com nor its officers, directors, partners, employees or anyone involved in the publication of the website or newsletters ("us" or "we") is a registered investment adviser or licensed broker-dealer in any jurisdiction whatsoever. Further, we are not qualified to provide any investment advice and we make no recommendation to purchase or sell any securities. The prior article is published as information only for our readers. otcshowcase.com is a third party publisher of news and research. Our site does not make recommendations, but offers information portals to research news, articles, stock lists and recent research. Nothing on our site should be construed as an offer or solicitation to buy or sell products or securities. This site is sometimes compensated by featured companies, news submissions and online advertising. Viper Enterprises, LLC (parent company of OTC Showcase) has been compensated on several occasions for news dissemination and journalism services from Cellceutix Corporation and holds a total of 125,000 shares of 144 restricted stock of Cellceutix Corporation, none of which has been sold to date. Prior compensation is listed in our full disclosure. Please read and fully understand our entire disclaimer at http://www.otcshowcase.com/about-2/disclaimer.