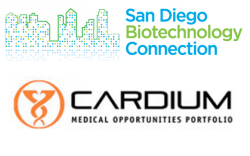 An article this morning on San Diego Biotechnology Connection website, discusses an important breakthrough in technology and regenerative medicine.  The article provides details of Cardium Therapeutics (NYSE MKT: CXM) and its Generx product candidate, a DNA-based angiogenic growth factor therapeutic being developed for the potential treatment of patients with advanced coronary artery disease.  The article titled, "Cardium Therapeutics reports advance – gene therapy process technology" was written by Rex Graham, a science journalist with a master's degree in microbiology and a 30-year career as an award-winning science writer and editor for newspapers and magazines.
A portion of the article contains:
"Blood vessels that grow as tiny "tubes" from tissue-culture cells are part of a new bio-assay potency test described as a 'significant advance' in gene therapy process technology that has been developed for San Diego-based Cardium Therapeutics (NYSE MKT: CXM). The bio-assay test supports commercialization of Cardium's Generx® gene therapy (alferminogene tadenovec) treatment for heart disease."
and
"The technology breakthrough represents an important next step for Cardium as part of its goal to commercialize its Generx® treatment. The non-surgical product candidate is currently being evaluated in the Phase 3 ASPIRE trial in medical centers in Moscow and St. Petersburg. Clinical sites are currently enrolling the 100 heart disease patients needed for the trial."
Interested parties are encouraged to read the complete article at:
https://sandiegobiotechnology.com/topics/5012/cardium-therapeutics-reports-significant-advance-in-gene-therapy-process-technology/

Cardium Therapeutics (CXM) Stock Quote and News:
---
Disclaimer: Neither www.otcshowcase.com nor its officers, directors, partners, employees or anyone involved in the publication of the website or newsletters ("us" or "we") is a registered investment adviser or licensed broker-dealer in any jurisdiction whatsoever. Further, we are not qualified to provide any investment advice and we make no recommendation to purchase or sell any securities. The prior article is published as information only for our readers. otcshowcase.com is a third party publisher of news and research. Our site does not make recommendations, but offers information portals to research news, articles, stock lists and recent research. Nothing on our site should be construed as an offer or solicitation to buy or sell products or securities. This site is sometimes compensated by featured companies, news submissions and online advertising. Viper Enterprises, LLC (parent company of OTC Showcase) has been compensated two thousand five hundred dollars by Cardium Therapeutics for its efforts in managing the dissemination of public corporate information on its website and to its database of subscribers and across select financial and social media websites. Please read and fully understand our entire disclaimer at http://www.otcshowcase.com/about-2/disclaimer.