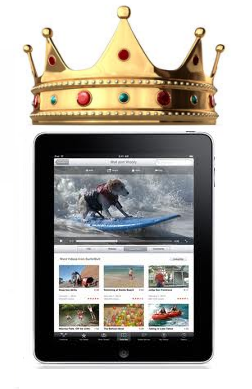 Tech giant Apple Inc. (NASDAQ: AAPL) said Monday that it sold three million iPads over the weekend since debuting the new iPad mini and fourth generation iPad.  Perhaps surprising analysts who were expecting tepid sales, the figures broke previous records set by Apple when it sold 1.5 million iPads in the first three days after launching its third edition of the popular tablet.  Individual sales of each product were not disclosed.
"We set a new launch weekend record and practically sold out of iPad minis," said Apple Chief Executive Officer Tim Cook. "We're working hard to build more quickly to meet the incredible demand."
According to the Apple website, orders placed now for the mini iPad will ship in two weeks.
The iPad mini has a screen that is one-third smaller (7.9 inches) and is 23 percent thinner than its bigger cousin.  Modifications to the latest iPad include retina display (meaning that the pixel density is so high that a human eye can't distinguish individual pixels), a twice-as-fast processor, upgraded high-definition video camera, U.S. 4G-LTE coverage and a new dock connector.

The newest tablets are currently being sold in the United States and 33 other countries with expansion to other countries in the works.  Only the Wi-Fi tablets are available presently with the 4G models expected to be on the market in the next few weeks.
Shares of Apple have fallen to three-month lows after surging to new all-time highs of $705.07 on September 21.  Today's news have managed to slow the downward roll a bit with shares modestly higher by 0.74 percent at $581.06 each in mid-afternoon trading.
Apple (AAPL) Stock Quote and News:
---
Disclaimer: Neither www.otcshowcase.com nor its officers, directors, partners, employees or anyone involved in the publication of the website or newsletters ("us" or "we") is a registered investment adviser or licensed broker-dealer in any jurisdiction whatsoever. Further, we are not qualified to provide any investment advice and we make no recommendation to purchase or sell any securities. The prior article is published as information only for our readers. otcshowcase.com is a third party publisher of news and research. Our site does not make recommendations, but offers information portals to research news, articles, stock lists and recent research. Nothing on our site should be construed as an offer or solicitation to buy or sell products or securities. This site is sometimes compensated by featured companies, news submissions and online advertising. Viper Enterprises, LLC (parent company of OTC Showcase) has received no compensation for this article from and owns no shares of the aforementioned company(ies). Please read and fully understand our entire disclaimer at http://www.otcshowcase.com/about-2/disclaimer.