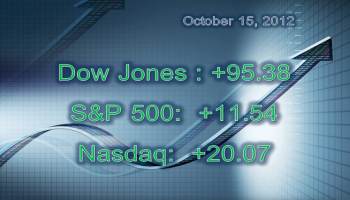 Stocks moved higher Monday as investors welcomed a sharp rise in retail sales and better-than-expected quarterly earnings from Citigroup.
The Dow Jones Industrial average leaped 95.38 points to close at 13,424.20
The S&P 500 prospered 11.54 points to 1,440.13, while the tech-rich Nasdaq recovered 20.07 points to 3,064.18
Bank stocks were among the best performers after Citigroup reported third-quarter earnings that topped analysts' forecasts. Shares of Citi rose about 4%. Bank of America and JPMorgan were also higher.
American International Group was the best insurance play today with a 1.6% advance.
Shares of Cablevision paced S&P 500 performers with a 4.85% climb, riding the news from last week that it is considering selling Bresnan Broadband Holdings LLC, a provider of TV and internet services.
On the other side of the coin, shares of MetroPCS Communications lead the S&P 500 laggards with a 4.9% decline as investors realize that the company – which is in the midst of a merger itself with T-Mobile – will have to compete with a stronger Sprint Nextel now that Japan's Softbank is taking a major position in the company.
Sprint agreed to sell a 70 percent stake of itself to Softbank Corp. in a deal valued at $20.1 billion. Clearwire Corp., who has Sprint as a large shareholder, continued to leg upward on the news.
Among the blue chips reporting results this week are Intel, Bank of America, IBM and Johnson & Johnson
Eli Lilly shares rose after the pharmaceutical company said a study of its gastric cancer drug showed positive results.
Shares of rival drug maker Abbott rose after it announced upbeat results for an initial study of its treatment of hepatitis C.
Yahoo Inc. saw its shares demur 1.1% after Stifel Nicolaus lowered its Q3 earnings estimates for the online media company from 28 cents per share to 23 cents per share.

Texas Instruments shares gained on speculation that Amazon is in talks to buy its smartphone microchip business.
Shares of Workday, which made a strong NYSE debut last week, kept their upward trajectory by rising another 6.67% to $51.94.
Shares of toy maker Hasbro fell more than 2% after analysts at Goldman Sachs downgraded the stock to sell. Goldman cited a sharp decline in the amount of money consumers spend on toys and games. Shares of rival toy company Mattel sympathetically fell as well.
Media conglomerate Gannett and brokerage Charles Schwab both reported earnings that beat forecasts.
Economically speaking, retail sales jumped 1.1% in September, boosted by higher gas prices and electronic sales, according to the U.S. Census Bureau. That's higher than the 0.7% rise expected by analysts.
The Federal Reserve Bank of New York's monthly Empire State Manufacturing Index remained in negative territory in October, but improved to a reading of -6.2 compared to a reading of -10.4 in September.
Overseas, a report Monday showed that inflation in China slowed in September. Chinese consumers paid 1.9% more for goods in September than they did a year earlier, the government's National Bureau of Statistics reported. That's down from a 2% increase in August.
The price of the benchmark 10-year U.S. Treasury was unchanged on the day, keeping the yield at Friday's 1.66%.
Oil prices recovered from lows, but still slipped 22 cents to $91.64 U.S. a barrel.
Gold prices fell $21.10 to $1,738.60 U.S. an ounce.
Dow Jones Industrial Average (DJIA) Stock Quote and News:
---
Disclaimer: Neither www.otcshowcase.com nor its officers, directors, partners, employees or anyone involved in the publication of the website or newsletters ("us" or "we") is a registered investment adviser or licensed broker-dealer in any jurisdiction whatsoever. Further, we are not qualified to provide any investment advice and we make no recommendation to purchase or sell any securities. The prior article is published as information only for our readers. otcshowcase.com is a third party publisher of news and research. Our site does not make recommendations, but offers information portals to research news, articles, stock lists and recent research. Nothing on our site should be construed as an offer or solicitation to buy or sell products or securities. This site is sometimes compensated by featured companies, news submissions and online advertising. Viper Enterprises, LLC (parent company of OTC Showcase) has received no compensation for this article from and owns no shares of the aforementioned company(ies). Please read and fully understand our entire disclaimer at http://www.otcshowcase.com/about-2/disclaimer.