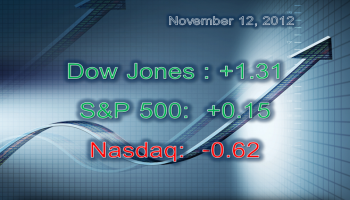 North American stocks continued to struggle after the U.S. benchmark index fell 2.4% last week, extending a losing streak driven by uncertainty over whether the United States can avoid the so-called fiscal cliff. U.S. stocks seesawed Monday, as investors fret about the looming fiscal cliff and keep a wary eye on Europe and Greece.
The Dow Jones Industrials poked ahead 1.31 points to close the day at 12,816.70
The S&P 500 nipped up 0.15 points to 1,380, and the Nasdaq Composite Index finished in the red 0.62 points to 2,904.25
Lawmakers have less than two weeks' worth of scheduled work days in the lame duck session to strike a deal that prevents the onset of $7 trillion U.S. of spending cuts and tax increases in January, and some experts are skeptical of that happening.
But rather than allowing the nation to careen over the fiscal cliff, they expect Washington will come up with short-term stopgap measures that delay or soften the impact of the fiscal cliff, and push the task of making the big decisions until next year.
Shortly after the market opened Monday, the NYSE Euronext, operator of the New York Stock Exchange, said it was "experiencing an issue" executing orders due to trouble with one of its engines that matches buy and sell orders, affecting more than 200 stocks, including CVS Caremark and United States Steel
Nasdaq OMX and the BATS BYX Exchange declared "self-help," meaning that they stopped routing orders to the New York Stock Exchange and have yet to resume, although NYSE said its issue was resolved before midday.
Homebuilders DR Horton and Beazer Homes both reported less-than-stellar quarterly results Monday, sending shares lower.
DR Horton reported a stronger-than-expected profit but missed on revenue. Meanwhile, Beazer Homes posted a quarterly loss of $2.57 U.S. per share, falling short of analyst expectations.
Homebuilders had recently been benefiting from signs of a gradual housing recovery. DR Horton shares have rallied 77% over the past year, while Beazer's stock is up 50%.
Jefferies Group shares surged after the securities firm agreed to merge with Leucadia National in an all-stock deal.
Research in Motion shares edged higher after the company announced it will launch its BlackBerry 10 on January 30.
JC Penney shares fell to a new 52-week low after being downgraded by Credit Suisse. The retailer, which reported disappointing results last week, continues to struggle with overhauling its image. JC Penney was the worst performer on the S&P 500 Monday.

Meantime, finance ministers from the 17 euro-zone countries met in Brussels Monday to discuss Greece's economic reforms.
Over the weekend, Greece's parliament approved the nation's 2013 budget. The vote was a big step toward unfreezing international bailout funds, even though disagreement among its creditors could push back the timetable for when that aid will resume.
The Treasury market is closed in observance of Veterans' Day
Oil prices surrendered 38 cents to $85.69 U.S. a barrel.
Gold prices faded $3.40 an ounce to $1,727.50 U.S.
Dow Jones Industrial Average (DJIA) Stock Quote and News:
---
Disclaimer: Neither www.otcshowcase.com nor its officers, directors, partners, employees or anyone involved in the publication of the website or newsletters ("us" or "we") is a registered investment adviser or licensed broker-dealer in any jurisdiction whatsoever. Further, we are not qualified to provide any investment advice and we make no recommendation to purchase or sell any securities. The prior article is published as information only for our readers. otcshowcase.com is a third party publisher of news and research. Our site does not make recommendations, but offers information portals to research news, articles, stock lists and recent research. Nothing on our site should be construed as an offer or solicitation to buy or sell products or securities. This site is sometimes compensated by featured companies, news submissions and online advertising. Viper Enterprises, LLC (parent company of OTC Showcase) has received no compensation for this article and owns no shares of the aforementioned company(ies). Please read and fully understand our entire disclaimer at http://www.otcshowcase.com/about-2/disclaimer.