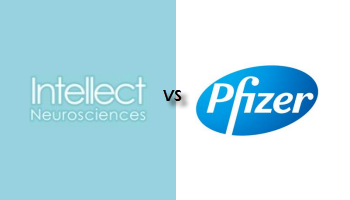 Intellect Neurosciences (OTCQB: ILNS), a junior biotech conducting research regarding proprietary drug candidates to treat Alzheimer's disease (AD) and other diseases associated with oxidative stress, said this morning that it has filed a lawsuit in the New York State Supreme Court against a top tier global pharmaceutical company for breach of the licensing agreement between the parties.
The lawsuit has been in the making since the U.S. Patent and Trademark Office issued Intellect a patent in May covering the company's ANTISENILIN® monoclonal antibody platform technology for the treatment and prevention of Alzheimer's disease.  The patent is a fundamental component of a licensing agreement between Intellect and an unnamed major pharma.  Intellect believes that the allowance of the patent triggered a milestone payment of $2 to Intellect, but the big drug maker does not agree.
As with many licensing agreements, names are not disclosed as part of non-disclosure agreements, so gleaning the name of the global pharma from the news was impossible, but not too difficult to track-down.  First, an article published through Accesswire on July 15 offered commentary in saying,
"A news story from Reuters reports that the findings offer a bit of evidence that the drug, bapineuzumab, which is being developed jointly by Pfizer Inc, Irish drugmaker Elan, and Johnson & Johnson is having a desired effect. The news comes on the heels of a report from BioMedReports, a news portal which revealed for the first time on Tuesday that several big pharmaceutical companies originally licensed the drug's technology platform from Intellect Neurosciences (ILNS.OB) after the company's founder and chairman, Dr. Daniel G. Chain discovered and protected the humanized monoclonal antibody."

Further, a
press release
from Intellect issued via PR Newswire on June 24, 2008 stated,
"Intellect recently announced that it has granted a royalty-bearing license to Wyeth and Elan Pharma International Ltd. (Elan) regarding patents and patent applications related to antibodies and methods of treatment for Alzheimer's disease including a co-exclusive license to Bapineuzumab under the ANTISENILIN(R) patents."
Since Pfizer bought Wyeth for $68 billion, "connecting-the-dots" lead to a common thread of the lawsuit being against Pfizer (NYSE: PFE) as the defendant in the lawsuit is unnamed and Elan's (NYSE: ELN) name doesn't seem to be under and NDA.  
A search with the New York State Supreme Court system confirmed that Pfizer is the defendant in the case that was filed on September 21, 2012.
The due diligence was not really necessary as the web search revealed Pfizer, but it did provoke the thought that Intellect probably has a licensing agreement with Johnson & Johnson (NYSE: JNJ) related to ANTISENILIN as well.
Commenting on the lawsuit, Daniel Chain, Ph.D., chairman and CEO of Intellect, said, "The idea that this global pharmaceutical company would attempt to withhold payment of a milestone payment stipulated in a license contract should be exceptionally distressing to every patent holder, especially small biopharmaceutical companies the size of Intellect Neurosciences, whose ability, in this case, to conduct critically important Alzheimer's research is dependent on receiving such payments from its licensees.  After exhausting all non-litigious options to secure our $2 million milestone payment, we realized we have no option save pursuing payment via the courts."
The patent discloses therapeutic antibodies to treat or delay onset of Alzheimer's disease and is based on discoveries that stimulated development of monoclonal antibodies that several global pharmaceutical companies have tested as treatments for Alzheimer's disease. The antibodies specifically bind to the ends of the beta amyloid protein without binding to the amyloid precursor protein (APP), which has important advantages compared to antibodies that do not have this feature, according to Intellect's press release today.
Intellect Neurosciences (ILNS) Stock Quote and News:
Pfizer (PFE) Stock Quote and News:
---
Disclaimer: Neither www.otcshowcase.com nor its officers, directors, partners, employees or anyone involved in the publication of the website or newsletters ("us" or "we") is a registered investment adviser or licensed broker-dealer in any jurisdiction whatsoever. Further, we are not qualified to provide any investment advice and we make no recommendation to purchase or sell any securities. The prior article is published as information only for our readers. otcshowcase.com is a third party publisher of news and research. Our site does not make recommendations, but offers information portals to research news, articles, stock lists and recent research. Nothing on our site should be construed as an offer or solicitation to buy or sell products or securities. This site is sometimes compensated by featured companies, news submissions and online advertising. Viper Enterprises, LLC (parent company of OTC Showcase) has received no compensation for this article from and owns no shares of the aforementioned company(ies). Please read and fully understand our entire disclaimer at http://www.otcshowcase.com/about-2/disclaimer.