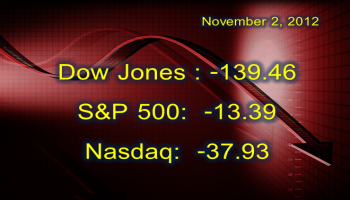 After triple digit gains on Thursday and a better-than expected jobs report Friday morning, stocks turned south and erased all, or nearly all gains, for the week as caution ruled ahead of Tuesday's presidential election.  A pre-market jobs report initially buoyed markets to at least keep trading relatively flat until the glee subsided about the employment picture and gave way to nervousness and risk aversion that will probably remain consistent until the final votes are tallied.
It was a volatile, yet shortened week, on Wall Street as first responders and millions of people clean-up the aftermath of Hurricane Sandy that laid a path of destruction on the East Coast Monday night.  At OTCShowcase, our thoughts and prayers go out to all of those affected.
The Dow Jones Industrial Average shed 139.46 points to 13,093.16.  After being up substantially, the Dow ended up 0.11 percent lower for the week, its second straight weekly drop.
The broader S&P 500 gave away 13.39 points to 1,414.20 while the tech-heavy Nasdaq doffed-off 37.93 to 2,982.13.  Across the last five days, the Nasdaq shaved 0.19 percent, its fourth straight weekly loss.  The S&P 500 was the only big board winner with a modest gain of 0.16 percent on the week.
In blue chip news, Apple unveiled its new iPad mini to a whisper compared to the normal exuberance that its products generate.  Shares of Apple fell more than 3 percent to tack-on to a weekly loss of 4.5 percent.
Verizon said that Superstorm Sandy may "significantly" affect its fourth-quarter results. Makes sense as the company is hustling to try and repair services, but warned that it may take some time. Shares of VZ dipped 1.37% to $44.52.

Shares of LinkedIn Corp. soared out of the gate with earnings the crushed Wall Street expectations on the back on a bigger user base creating greater revenue.  By the closing bell, though, shares retreated and the stock lost 7 cents, or 0.07%.  The business social media firm reported third-quarter profit of $2.3 million, or 2 cents per share, compared to a loss of $1.6 million, or 2 cents a share, in the year prior quarter.  Revenue rose to $252 million from $139.5 million.  An adjusted profit of 22 cents per share doubled analyst predictions.
Online review company Yelp Inc. took a lashing after it posted revenue and weak guidance that were both in line with estimates.  Yelp said the reason for the sell-off was because they pre-announced revenue figures last week and traders sold into Friday's official report.  Shares slumped 14.65 percent to $20.51.
Corp., the U.S.'s second largest oil company, missed expectations with its earnings report and paced Dow component laggards with a 2.8 percent drop.
Starbucks Corp., the world's biggest coffee shop operator, bucked the general market trend to rise by 9 percent on Friday by raising its full fiscal year profit guidance as its sales in the U.S. beat predictions.  Net income climbed 0.1 percent to $359 million from $358.5 million a year earlier and per-share profit totaled 46 cents, ahead of analyst calls for 45 cents.  It was Starbucks biggest one-day climb since March 2011.
In IPO news, upscale furniture retailer Restoration Hardware priced its initial offering at the high end of its expected range at $24 per share and closed the day firmly ahead at $31.10.
Embattled freight mover YRC Worldwide swung s third quarter profit as tighter expense control offset declining revenue, but the Overland Park, Kansas company still fell shy of analyst expectations.  For the latest quarter, the company reported a profit of $3 million, compared to a loss of $122.3 million in the 2011 third quarter.  Earnings per share registered a loss of $4.30 in Q3 2012 as compared to a loss of $153.74 per share in the year prior quarter.  Revenue equaled $1.24 billion.  Wall Street was expecting a earnings loss of $3.94 per share on revenue of $1.27 billion.  Shares stumbled 22 cents lower to $7.35.
Warren Buffett's Berkshire Hathaway said that they are buying Oriental Trading Company, a maker of party favors and novelties, in a deal that is reportedly worth $500 million, although terms were not disclosed.
On the economic slate, the Labor Department said that the U.S. created 171,000 jobs in October and upwardly revised its figures from both August and September.  Economists were only expected 120,000 new jobs.  Still though, the work force in the States increased and the unemployment rate upticked from 7.8 percent to 7.9 percent.
The Commerce Department reported that factory orders for manufactured goods rose by 4.8 percent after a decline of 5.1 percent in August.  The September jump was the largest since March 2011, but the mood was tempered by only a paltry 0.2 percent rise in core capital goods, which are regarded as a barometer for business investment plans.
Oil for December delivery was part of a broad commodities sell-off and slumped $2.23 per barrel to $84.86, a four-month low.
Gold futures for December delivery crashed through a technical support to a two-month low as bullion unloaded $40.30 per troy ounce, or 2.35 percent, as economic reports boosted the U.S. dollar.
Dow Jones Industrial Average (DJIA) Stock Quote and News:
---
Disclaimer: Neither www.otcshowcase.com nor its officers, directors, partners, employees or anyone involved in the publication of the website or newsletters ("us" or "we") is a registered investment adviser or licensed broker-dealer in any jurisdiction whatsoever. Further, we are not qualified to provide any investment advice and we make no recommendation to purchase or sell any securities. The prior article is published as information only for our readers. otcshowcase.com is a third party publisher of news and research. Our site does not make recommendations, but offers information portals to research news, articles, stock lists and recent research. Nothing on our site should be construed as an offer or solicitation to buy or sell products or securities. This site is sometimes compensated by featured companies, news submissions and online advertising. Viper Enterprises, LLC (parent company of OTC Showcase) has received no compensation for this article from and owns no shares of the aforementioned company(ies). Please read and fully understand our entire disclaimer at http://www.otcshowcase.com/about-2/disclaimer.