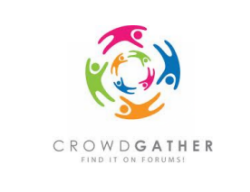 CrowdGather Inc. (OTCBB: CRWG), a leading network of forum communities on the Internet and developer of innovative advertising technologies to monetize them, alongside companies ranging from LinkedIn Corporation (NASDAQ: LNKD) to Jive Software Inc. (NASDAQ: JIVE), offers not only a great way for people to find information and connect with others, but a way to monetize communities that were previously generating only a marginal profit.
There's a Forum for That!
Forums have filled the Internet's information void far before the phrase "there's an app for that" became popular. From overclocking your PC to old TV shows, there's a forum community for just about every topic you can think of and more. In fact, there are far more forums in existence on the Internet than apps targeting obscure or niche topics.
These forums offer a much easier way to find information, too. Since forums are regularly crawled by search engines, they provide casual search engine users with quick answers on a single page. Those looking for more in-depth information can also sign-up with the forum and post their questions for the community as a whole to discuss and answer.

Underappreciated by Advertisers
Despite their (secret) popularity and highly targeted traffic, forums haven't been that popular among advertisers. The reason is because most forums are owned by communities and are not designed explicitly to generate a profit. Moreover, there are no advertising platforms that cater specifically to forum operators to deliver the right ads to the right people.
CrowdGather aims to solve these problems. With a large wholly owned forum network, the company has developed and tested an advertising solution that enables companies to target particular niches on a large scale. For instance, paintball gun vendors can sell their products on PBnation.com, where paintball enthusiasts gather to discuss their favorite hobby.
The company has also opened up its advertising platform to third-party forum owners looking to better monetize their traffic. This scalable solution could generate significant advertising revenues for the company, along the same lines as other ad networks like DoubleClick (now owned by Google), CommissionJunction or ValueClick.
A Great Investment Opportunity
CrowdGather Inc. (OTCBB: CRWG) represents a great investment opportunity. With a market capitalization of just $18 million, the company trades right around its book value of $16.8 million, or $0.29 per share, despite recording very strong quarterly revenue and double-digit annual growth for the third quarter of its fiscal 2012.
CrowdGather (CRWG) Stock Quote and News:
(not active until Friday)
---
Disclaimer: Neither http://www.otcshowcase.com nor its officers, directors, partners, employees or anyone involved in the publication of the website or newsletters ("us" or "we") is a registered investment adviser or licensed broker-dealer in any jurisdiction whatsoever. Further, we are not qualified to provide any investment advice and we make no recommendation to purchase or sell any securities. The prior article is published as information only for our readers. otcshowcase.com is a third party publisher of news and research. Our site does not make recommendations, but offers information portals to research news, articles, stock lists and recent research. Nothing on our site should be construed as an offer or solicitation to buy or sell products or securities. This site is sometimes compensated by featured companies, news submissions and online advertising. Viper Enterprises, LLC (parent company of OTC Showcase) has been compensated two thousand dollars by an unaffiliated third party, Accelerize New Media, for its efforts in presenting the CRWG profile on its website and distributing it to its database of subscribers as well as other services. Please read and fully understand our entire disclaimer at http://www.otcshowcase.com/about-2/disclaimer.