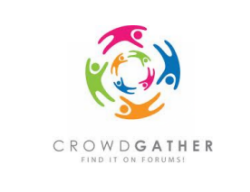 The power of pheromones is well-documented.  Nationally recognized publications such as the Washington Post, NY Times and Fortune Magazine have all written on the potency of the chemicals emitted by one individual to evoke behavior in others of the same species.  CrowdGather, Inc. (OTCBB:CRWG), a leading developer and operator of online forum-based communities building its presence in the same internet space as companies such as LinkedIn Corporation (NASDAQ: LNKD) and IAC Interactive Corp (NASDAQ: IACI), is taking the knowledge of pheromones to whole new level.  A social level.
Through its partnership with industry expert Human Pheromone Sciences, Inc. (OTCBB:EROX), CrowdGather is ratcheting up the widely-popular activity of communicating on forums through Erox, a pheromone-filled fragrance formulated to make people more chatty.  Erox is the first commercial product to contain Human Pheromone Sciences' patent pending Muiricin Angluycone (ER303), a compound that has been shown to increase arousal, excitement, social-warmth, and sensuality in both men and women during a double blind placebo controlled study.  If that wasn't enough, Erox also contains two human pheromones, Androstadienone (ADO) and Estratetraenol (ETE), which have been proven to increase feelings of confidence and well-being in the wearers and those around them.

CrowdGather has the exclusive rights to distribute the product online through affiliate internet marketing channels.  Adrianne Curry, the reality star and television host who found fame as the first winner of "America's Next Top Model" as well as her starring roles in VH1's hit series the "Surreal Life" and "My Fair Brady," will be serving as the spokesperson for CrowdGather's social media campaign to launch Erox.  All jazzed-up over the new product, Adrianne Curry commented, "I love the idea of using a fragrance that actually makes people more social.  Erox is fun and flirty with a broad appeal due to its unisex nature."
The marketing campaign will feature content geared towards entertainment and will be introduced through CrowdGather-owned websites and forums as well as through other community forums, online advertising and social media stalwarts Twitter and Facebook.
It's really a perfect storm for CrowdGather to launch a product that will generate revenue from all angles.  Further, it will showcase the power of CrowdGather's internet marketing channels and the potential of marketing through them.  CrowdGather CEO Sanjay Sanani sees the true value as he explained, "The development, marketing and launch of Erox marks the first social media product launch for CrowdGather, a business model we intend to pursue going forward."
With a market capitalization that is drastically lower than its industry peers, CrowdGather represents an undervalued opportunity that is not frequently seen in companies building a strong online presence.  The launch of Erox has apparently emitted a pheromone that has been picked-up by the investment community.  Shares of CRWG have appreciated by more than 50 percent in just over a week from a solid support level at 11 cents to trade at 17 cents on some notably heavy volume trading days.
CrowdGather, Inc. (CRWG) Stock Quote and News:
---
Disclaimer: Neither http://www.otcshowcase.com nor its officers, directors, partners, employees or anyone involved in the publication of the website or newsletters ("us" or "we") is a registered investment adviser or licensed broker-dealer in any jurisdiction whatsoever. Further, we are not qualified to provide any investment advice and we make no recommendation to purchase or sell any securities. The prior article is published as information only for our readers. otcshowcase.com is a third party publisher of news and research. Our site does not make recommendations, but offers information portals to research news, articles, stock lists and recent research. Nothing on our site should be construed as an offer or solicitation to buy or sell products or securities. This site is sometimes compensated by featured companies, news submissions and online advertising. Viper Enterprises, LLC (parent company of OTC Showcase) has received no compensation for this article from and owns no shares of the aforementioned company(ies). Please read and fully understand our entire disclaimer at http://www.otcshowcase.com/about-2/disclaimer.
$CRWG" data-desc="The power of pheromones is well-documented.  Nationally recognized publications such as the Washington Post, NY Times and Fortune Magazine have all written on the potency of the chemicals emitted by one individual to evoke behavior in others of the same species.  CrowdGather, Inc. (OTCBB:CRWG), a" data-image="http://www.otcshowcase.com/wp-content/uploads/2012/01/CrowdGather-CRWG-feature-image-300x187.png" data-site="OTC Showcase">