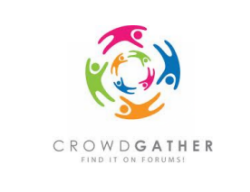 CrowdGather Inc. (OTCBB: CRWG), a leading network of forum communities on the Internet and developer of innovative advertising technologies to monetize them, operating alongside companies ranging from LinkedIn Corporation (NASDAQ: LNKD) to Jive Software Inc. (NASDAQ: JIVE), is capitalizing on the "silent" popularity of forums online.
More Popular than You Think
Forums may seem reserved for tech-savvy enthusiasts, but in reality, more than a quarter of Internet users have used a forum, according to Forrester Research. And, that's not only reading online forums – a separate study by Synovate found that one in five Americans contribute to online forums, ranging from health advice forums to technology forums.
The people that read and contribute to forums are also a premium demographic. CrowdGather's audience consists of 67% males and 47% college/grad school graduates. Moreover, nearly half of this audience is between the ages of 18 to 34, which makes the demographic perfect for most advertisers looking to reach those with high discretionary spending.

Perfectly Designed to Build Traffic
Search engines like Google, Yahoo, and Bing represent the vast majority of Internet usage in the U.S. According to a recent Pew Internet study, some 92% of Internet users utilize search engines to find information online. By comparison, only 65% of online adults use social networking websites, according to a separate study by Pew Internet.
Unlike social media, forums are perfectly suited to build traffic via search engines by accumulating vast amounts of user-generated content over time. Forum posts with targeted keyword phrases are indexed by search engines and appear in search results. And many blogs and other websites reference these posts, increasing their rankings in many search engines.
Publicly Traded Forum Companies
CrowdGather Inc. (OTCBB: CRWG) represents the only publicly traded forum operator with up to 230 million pageviews per month and 16 million monthly unique visitors. Despite several billion-dollar social media valuations, such as that of LinkedIn Corporation (NASDAQ: LNKD), the company trades with a market capitalization of just $16.9 million.
Recently, the company developed an ad server technology to deploy across owned and third party forums that will enable it to harness this enormous potential. After transforming itself into a scalable publisher network in 2011, the firm now expects 20% year-over-year revenue growth as it generates significant long-term value for shareholders.
Finally, the company has no debt and its CEO holds a very large stake and has already retired nearly a quarter of its outstanding shares.
CrowdGather (CRWG) Stock Quote and News:
(not active until Friday)
---
Disclaimer: Neither http://www.otcshowcase.com nor its officers, directors, partners, employees or anyone involved in the publication of the website or newsletters ("us" or "we") is a registered investment adviser or licensed broker-dealer in any jurisdiction whatsoever. Further, we are not qualified to provide any investment advice and we make no recommendation to purchase or sell any securities. The prior article is published as information only for our readers. otcshowcase.com is a third party publisher of news and research. Our site does not make recommendations, but offers information portals to research news, articles, stock lists and recent research. Nothing on our site should be construed as an offer or solicitation to buy or sell products or securities. This site is sometimes compensated by featured companies, news submissions and online advertising. Viper Enterprises, LLC (parent company of OTC Showcase) has been compensated two thousand dollars by an unaffiliated third party, Accelerize New Media, for its efforts in presenting the CRWG profile on its website and distributing it to its database of subscribers as well as other services. Please read and fully understand our entire disclaimer at http://www.otcshowcase.com/about-2/disclaimer.