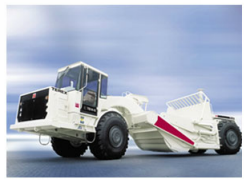 Chico, California-based AmeraMex International, Inc. (Pink Sheets: AMMX), a provider of heavy equipment to logistics companies, infrastructure construction, commercial farming and mining companies, announced it has received additional orders totaling $500,000 for heavy equipment from its South American customers. The equipment is in inventory and is expected to ship before the end of May.
In March, AmeraMex received orders totally approximately $1.7 million from South America.

"South American countries are resource rich and busy exporting to other growth countries such as China, Russia and India," said AmeraMex CEO Lee Hamre.  "Countries such as Peru, Panama, Brazil and Chile are expecting growth rates from 9.8 percent to 6.78 percent and an International Monetary Fund economist projects overall growth in South America to be 3.7 percent for 2012 and 4.1 percent for 2013. We are developing a strong customer base in South America and look forward to expanding our outreach as we grow revenue."
The company is also pursuing additional clients in Africa, a market that AmeraMex believes has "tremendous opportunities," according to today's press.  Economists are calling for a 6 percent growth rate for Africa in 2012, despite significant challenges across many of its countries.
A Pink Sheet company, AmeraMex said last month that a two-year audit is being finalized.  The 2011 audit was completed with the company reporting full year revenue of $5.22 million, a 53 percent increase over unaudited 2010 revenue of $3.35 million.  Net profit totaled $152,850 in 2011 as compared to a net loss of $322,503 in 2010.  The company has 388 million shares outstanding and a market cap of $5.3 million currently.
AmeraMex (AMMX) Stock Quote and News:
---
Disclaimer: Neither http://www.otcshowcase.com nor its officers, directors, partners, employees or anyone involved in the publication of the website or newsletters ("us" or "we") is a registered investment adviser or licensed broker-dealer in any jurisdiction whatsoever. Further, we are not qualified to provide any investment advice and we make no recommendation to purchase or sell any securities. The prior article is published as information only for our readers. otcshowcase.com is a third party publisher of news and research. Our site does not make recommendations, but offers information portals to research news, articles, stock lists and recent research. Nothing on our site should be construed as an offer or solicitation to buy or sell products or securities. This site is sometimes compensated by featured companies, news submissions and online advertising. Viper Enterprises, LLC (parent company of OTC Showcase) has received no compensation for this article from and owns no shares of the aforementioned company(ies). Please read and fully understand our entire disclaimer at http://www.otcshowcase.com/about-2/disclaimer.