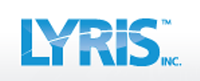 Global digital marketing company Lyris, Inc. (OTCBB:LYRI) will report its operating results for the third quarter of fiscal 2012 on Thursday, May 10.
The company will hold a conference call and webcast to discuss its financial results and operating activities open to all interested parties at 8 a.m., Pacific Daylight Time (11 a.m., Eastern Daylight Time), Thursday, May 10, hosted by Wolfgang Maasberg, chief executive officer, Deborah Eudaley, chief financial officer, and Richard McDonald, director of investor relations.

The teleconference can be accessed by calling (719) 325-4797, passcode 9496270. Please dial in 10-15 minutes prior to the beginning of the call. The webcast will be available on the Internet at
www.lyris.com
with a replay available through Thursday, May 17, at (858) 384-5517, passcode 9496270 on the website.
Lyris (LYRI) Stock Quote and News:
---
Disclaimer: Neither http://www.otcshowcase.com nor its officers, directors, partners, employees or anyone involved in the publication of the website or newsletters ("us" or "we") is a registered investment adviser or licensed broker-dealer in any jurisdiction whatsoever. Further, we are not qualified to provide any investment advice and we make no recommendation to purchase or sell any securities. The prior article is published as information only for our readers. otcshowcase.com is a third party publisher of news and research. Our site does not make recommendations, but offers information portals to research news, articles, stock lists and recent research. Nothing on our site should be construed as an offer or solicitation to buy or sell products or securities. This site is sometimes compensated by featured companies, news submissions and online advertising. Viper Enterprises, LLC (parent company of OTC Showcase) has received no compensation for this article from and owns no shares of the aforementioned company(ies). Please read and fully understand our entire disclaimer at http://www.otcshowcase.com/about-2/disclaimer.