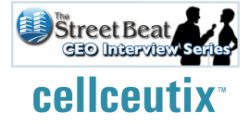 The latest edition of TheStreetBeat.com's CEO Interview series features Cellceutix Chief Executive Officer Leo Ehrlich. The interview is being released in two parts, with Part One of the interview released this afternoon and Part Two slated to be released tomorrow.
In this first segment, Mr. Ehrlich primarily discusses the company's efforts to advance Kevetrin™. The new cancer drug is already drawing attention because of its ability to re-activate p53, often heralded as holding a key to a new generation of chemotherapy because the protein is damaged or mutated in nearly all cancer strains; keeping it from doing its job as master regulator of the cell cycle. The clinical trials are being hosted at the vaunted Dana-Farber Cancer Institute, a world leading cancer research center.

The Cellceutix chief also brings in a new association with Pfizer, the world's largest drug maker. Erhlich says that the research at Beth Israel Deaconess Medical Center that is going to be conducted independent of the company-sponsored clinical trials at Dana-Farber (Beth Israel is a part of those trials as well), will be combination research with Kevetrin™ and some of Pfizer's drugs. Once again, Cellceutix is having its name and compounds put in the same sentence with some major players in the pharmaceutical industry. Cellceutix has disclosed signing Non-Disclosure Agreements regarding Kevetrin™, but has never disclosed the names of the "major" pharmas. It sure harkens the questions if Pfizer was one of them and what type of relationship is being established if it is. Those answers are impossible to discern at this moment, but it is plain to see that Cellceutix is setting itself apart from all other biotechs its size.
Part One of the interview on TheStreetBeat.com:
Part One Transcript:
TSB: Welcome traders to another edition of The Street Beat's CEO Interview Series. I am your host, Bolton Flautt and joining us today is Cellceutix Corporation's Chief Executive Officer, Leo Ehrlich. Cellceutix is a biopharmaceutical company developing small molecule drugs to treat severe medical conditions, including drug-resistant cancers. Cellceutix trades on the Over the Counter Bulletin Boards under the ticker "CTIX".
TSB: Welcome to The Street Beat's CEO Interview Series, Leo.
Ehrlich: Thank you. It's a pleasure to be here with you.
TSB: Leo, can you give the listeners a synopsis of the Cellceutix pipeline of drug candidates?
Ehrlich: Sure. Cellceutix has a portfolio of eight very promising compounds for a wide range of indications. Our flagship compound, Kevetrin™, is an exciting anti-cancer drug set apart from anything else out there and is set to enter clinical trials at Harvard's Dana-Farber Cancer Institute and its partner hospitals including Beth Israel Deaconess Medical Center. Kevetrin is truly revolutionary as its Mechanism of Action has shown to re-activate p53, which is often referred to as the "Guardian Angel of the Human Genome." It's a critical pathway that cancer researchers have been trying for decades to find success with and we are the first that we know of to do so without damaging any DNA. We are also moving forward with Prurisol™, a new drug for psoriasis, with a meeting scheduled with the FDA in coming weeks to discuss the necessary protocol for us to try and achieve a 505(b)(2) designation, which would allow us to take Prurisol straight into a Phase 2/3 clinical trial. The third compound that we are actively developing is a drug targeting the core issues of autism. It's called KM-391. Although we don't speak a great deal about it because Kevetrin and Prurisol are closer to human trials, we are very excited about the potential of KM-391 because it represents a potential drug for a terrible disease that affects so many people, including millions of children.
TSB: You said that Cellceutix is slated to have clinical trials for Kevetrin hosted at Harvard's Dana-Farber Cancer Center and partners. Can you give us an update on the commencement of the human trials?
Ehrlich: Absolutely. The day is drawing nearer for the trials to begin. We anticipate having the IND submitted in mid-May. After a 30 day FDA review process and upon approval of the IND, the hospitals would be allowed to begin the trials as early as mid-June.
Question: I understand you recently started collaborations with Beth Israel Deaconess Medical Center. Could you elaborate a bit more on that relationship?
Ehrlich: Honestly, we are very excited about this relationship. Beth Israel Deaconess is a teaching hospital of Harvard Medical School and will be a part of our company-sponsored clinical trials for Kevetrin. Separate from the clinical trials, though, they approached us about studying Kevetrin because of its unique mechanism of activating p53. Of course we jumped at the chance to gain more knowledge about our compound as they will be researching Kevetrin in combination with another drug for indications which we have not yet studied. It is a major stepping stone for us to have our leading drug studied at some of the most well-known and prestigious cancer centers in the world.
Question: What kind of research will they be doing?
Ehrlich: They proposed putting Kevetrin alongside some of Pfizer's drugs. Since Kevetrin acts through the p53-MDM2 pathway to induce apoptosis, it may be a good candidate for this combination study. In other words, after looking at what may possibly be complementary mechanisms of action, they hypothesized that the compounds may work well together against certain cancer tumors.
Question: And what type of cancers are they looking into and how do they know if they are in fact working?
Ehrlich: Great question. Renal Cell Carcinoma, which originates in the kidneys, and Melanoma, the most dangerous type of skin cancer, were each chosen because they harbor wild type p53. First they will be looking at the compound's effects and mechanisms of action with only the cancer cells in test tubes. Then, this will be followed up with in-vivo experiments. Tumors will be measured over time, and again the goal will be to find out if these compounds in combination will have a synergistic effect on these cancers.
Question: Sounds promising, what happens if it works?
Ehrlich: If this works, it will certainly attract the attention of the other pharmaceutical company involved in this study that has just sold their infant formula business to Nestle for about 12 billion dollars. The bottom line is that Kevetrin represents a completely new class of chemotherapy and that is something that is very rare. Our laboratory testing has produced extraordinary data that continues to be expanded upon to further delineate the Mechanism of Action and explain why it has worked on every, single type of cancer we have tried it on.
(Stay Tuned for Part Two Tomorrow.)
Cellceutix (CTIX) Stock Quote and News:
---
Disclaimer: Neither http://www.otcshowcase.com nor its officers, directors, partners, employees or anyone involved in the publication of the website or newsletters ("us" or "we") is a registered investment adviser or licensed broker-dealer in any jurisdiction whatsoever. Further, we are not qualified to provide any investment advice and we make no recommendation to purchase or sell any securities. The prior article is published as information only for our readers. otcshowcase.com is a third party publisher of news and research. Our site does not make recommendations, but offers information portals to research news, articles, stock lists and recent research. Nothing on our site should be construed as an offer or solicitation to buy or sell products or securities. This site is sometimes compensated by featured companies, news submissions and online advertising. Viper Enterprises, LLC (parent company of OTC Showcase) has been compensated on several occasions for news dissemination and journalism services from Cellceutix Corporation and holds a total of 100,000 shares of 144 restricted stock of Cellceutix Corporation, none of which has been sold to date, nor intends to be sold in the near term. Prior compensation is listed in our full disclosure. Please read and fully understand our entire disclaimer at http://www.otcshowcase.com/about-2/disclaimer.