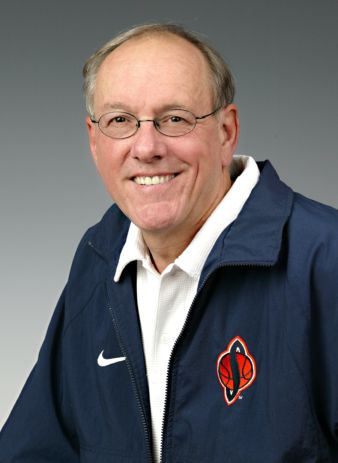 Cellceutix Corporation (OTCBB: CTIX) (the "Company"), a biopharmaceutical company developing a novel drug to treat cancers and cancers which have proven resistant to today's cancer therapies (drug-resistant cancers),is pleased to announce that Syracuse University's legendary men's basketball coach Jim Boeheim has joined Cellceutix as an advisor to the Company.
Coach Boeheim has earned icon status in the world of basketball.  Coaching on the sidelines of the Carrier Dome court that is now named after him, Boeheim has an 890–305 (.745) overall record; ranking him second in wins among active Division I coaches and third all-time in college basketball. Syracuse has nine Big East regular season championships, five Big East Tournament championships and 28 trips into the NCAA Tournament, including four Final Four appearances with a NCAA championship in 2003. Boeheim has earned bronze and gold medals for his role as assistant coach in the 1990 FIBA World Championship, the 2006 FIBA World Championship, the 2008 Summer Olympics and the 2010 FIBA World Championships in Turkey. This summer, he will be once again be filling the position in the latest edition of the "Dream Team" during the Olympics in London, England.  In September 2005, Boeheim was inducted into the Basketball Hall of Fame.
Boeheim's list of basketball accolades are only paralleled by his philanthropic efforts in the field of cancer.   Surviving his own battle with prostate cancer, Boeheim now heads the Jim and Juli Boeheim Foundation and has become a major advocate for Coaches vs. Cancer, the Children's Miracle Network, the Make-A-Wish Foundation, Easter Seals, the Special Olympics and more.  His dedication to Coaches vs. Cancer, a non-profit collaboration between the National Association of Basketball Coaches and the American Cancer Society, has helped raise $4.5 million for the American Cancer Society's Central New York chapter over the past 12 years.

"After speaking with Cellceutix about their planned clinical trial plans at Harvard's Dana-Farber Cancer Institute and learning about the p53 connection with Kevetrin™ as a completely new class of chemistry in medicine, I was compelled to support their efforts," said Jim Boeheim.  "I am genuinely excited to begin this new challenge to bring an underdog to a championship."
"We are thrilled to have Coach Boeheim joining our own version of a 'Dream Team'," commented Cellceutix CEO Leo Ehrlich.  "His efforts both on and off the court epitomize a true champion, and that's exactly what we want to surround ourselves with.  Coach's relationships in the cancer industry and tireless work ethic will help spread the important message about the potential of Kevetrin™ to medical experts and members of the public whose lives could be changed for the better as the compound enters into clinical trials."
The Cellceutix Team:
Advisor Paul Marks, MD, is the former President and Chief Executive Officer of Memorial Sloan-Kettering Cancer Center and current President Emeritus and Member of the Sloan-Kettering Institute (MSKCC).  Across 19 years as President and CEO at MSKCC, Dr. Marks made major contributions in developing new and more potent chemotherapy and chemoprevention agents which led to the "Paul Marks Prize for Cancer Research" being established at MSKCC as an award to honor young investigators for promising cancer research.
Advisor Dr. Emil Frei III, MD, is one of the world's leading oncologists and a pioneer of chemotherapy.  Dr. Frei has served as Chief of Medicine at National Cancer Institute and Director and Physician-in-Chief at the Dana-Farber Cancer Institute. He continues today as Physician-in-Chief, Emeritus, at Dana-Farber. Dr. Frei and his colleague Dr. Freireich established drug trials in children with leukemia using intermittent combinations of up to four drugs, each of which targeted a different pathway in the cell's physiology. The treatment strategy significantly increased the survival rate for childhood leukemia and other types of cancer. In addition, they worked together to modernize chemotherapy trials by defining remission, organizing multi-patient treatment programs, and devising the concept of double-blind studies
Advisor Dr. Samuel Danishefsky is internationally recognized as a leading chemist in cancer research.  A Sterling Professor of Chemistry at Yale University, Dr. Danishefsky currently serves as Director and Chairman of the Laboratory for Cancer Research Bioorganic Chemistry at Memorial Sloan-Kettering Cancer Center.
Advisor Dr. Paul Ginsburg received his Ph.D. in Chemistry from the City University of New York and his law degree from Columbia University where he was a Harlan Fiske Stone Scholar.   Dr. Ginsburg retired from Pfizer Inc., where he served as Head of the New York Patent Department and worked on patent matters relating to several blockbuster products, including Viagra and Chantix.
Dr. Krishna Menon is a founder and Chief Scientific Officer of Cellceutix.  Dr. Menon has nearly 30 years in drug development for academia and industry, including his position as Group Leader, Cancer In Vivo Research and Clinical Development, for Eli Lilly, where he played a key role in lead selection and pre-clinical development of blockbuster cancer drugs Gemzar and Alimta which earned him a President's Recognition Award from Eli Lilly.
About Cellceutix
Headquartered in Beverly, Massachusetts, Cellceutix is a publicly traded company under the symbol "CTIX".  It is an emerging bio-pharmaceutical company focused on the development of its pipeline of compounds targeting areas of unmet medical need.  Our flagship compound, Kevetrin™, is an anti-cancer drug which has demonstrated the ability in pre-clinical studies to regulate the p53 pathway and attack cancers which have proven resistant to today's cancer therapies (drug-resistant cancers). Cellceutix also owns the rights to seven other drug compounds, including KM-133, which is in development for psoriasis, and KM-391 for the treatment of the core symptoms of autism.  More information is available on the Cellceutix web site at www.cellceutix.com.
Safe Harbor Forward-Looking Statements
To the extent that statements in this press release are not strictly historical, including statements as to revenue projections, business strategy, outlook, objectives, future milestones, plans, intentions, goals, future financial conditions, future collaboration agreements, the success of the Company's development, events conditioned on stockholder or other approval, or otherwise as to future events, such statements are forward-looking, and are made pursuant to the safe harbor provisions of the Private Securities Litigation Reform Act of 1995. The forward-looking statements contained in this release are subject to certain risks and uncertainties that could cause actual results to differ materially from the statements made. Factors that may impact Cellceutix's success are more fully disclosed in Cellceutix's most recent public filings with the U.S. Securities and Exchange Commission.
Cellceutix Corp.
Leo Ehrlich
(978) 236-8717
Cellceutix (CTIX) Stock Quote and News:
---
Disclaimer: Neither http://www.otcshowcase.com nor its officers, directors, partners, employees or anyone involved in the publication of the website or newsletters ("us" or "we") is a registered investment adviser or licensed broker-dealer in any jurisdiction whatsoever. Further, we are not qualified to provide any investment advice and we make no recommendation to purchase or sell any securities. The prior article is published as information only for our readers. otcshowcase.com is a third party publisher of news and research. Our site does not make recommendations, but offers information portals to research news, articles, stock lists and recent research. Nothing on our site should be construed as an offer or solicitation to buy or sell products or securities. This site is sometimes compensated by featured companies, news submissions and online advertising. Viper Enterprises, LLC (parent company of OTC Showcase) has been compensated on several occasions for news dissemination and journalism services from Cellceutix Corporation and holds a total of 100,000 shares of 144 restricted stock of Cellceutix Corporation, none of which has been sold to date, nor intends to be sold in the near term. Prior compensation is listed in our full disclosure. Please read and fully understand our entire disclaimer at http://www.otcshowcase.com/about-2/disclaimer.