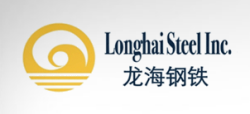 Scrolling through another batch of earnings reports from big board companies in the steel business once again showcases the out of sync valuation with Longhai Steel, Inc. (OTCBB: LGHS) and its industry peers.
Olympic Steel, Inc., (NASDAQ: ZEUS) reported net sales for the fourth quarter of 2011 totaled $319.9 million, the highest ever for a fourth quarter, and increased 48.7% from $215.2 million for the fourth quarter of 2010. Fourth quarter 2011 net income totaled $0.6 million, or $0.05 per diluted share, compared to a net loss of $1.6 million, or $0.15 per diluted share, in last year's fourth quarter.  Net sales for the year totaled $1.26 billion in 2011, a record annual revenue total, and increased 56.7% from $805 million in 2010. For 2011, net income increased by $22.9 million to $25.0 million, or $2.28 per diluted share, compared to net income of $2.1 million, or $0.20 per diluted share, for 2010.  Shares are trading around $24 each with a market cap of $260 million.

China Gerui Advanced Materials Group Ltd. (NASDAQ:CHOP) reported 2011 Q3 revenue of $101.1 million as compared to $61.9 million in the same quarter of 2010.  Gross profit for the quarter was reported at $32.1 million; up from $18.6 million in the 2011 quarter.  Operating income increased to $28.7 million from $16.5 million.  The company was recently upgraded to NASDAQ Global Select.  China Gerui has no long-term debt, but more than $216 million in short-term debt.  Shares are trading at $3.57 with a $210 million market cap.
Schnitzer Steel Industries (NASDAQ:SCHN) said that it expects fully diluted earnings per share for the second quarter to be approximately $0.28 - $0.35.  It reports its earnings on April 5th.  Shares are trading at $40 with a market cap of $1.1 billion.
For its third quarter ended Feb. 29, 2012, Worthington Industries (NYSE: WOR) reported a profit of $25.9 million, or 37 cents a share, down from $26.3 million, or 35 cents a share, a year earlier on a revenue increase of 7.3% to $611.3 million.  Revenue at Worthington's steel processing business, its biggest by sales, rose 22% to $367.3 million.  Shares are trading at $19 each with a market cap of $1.33 billion.
The unsung hero in this business looks to be Longhai Steel Inc. (OTCBB: LGHS), a producer of high-quality steel wire products in the People's Republic of China.  Today, the company announced financial results for the year ended December 31, 2011 which included steel wire sales revenue of $608 million compared with revenues of $475 million for 2010, an increase of $133 million, or 28 percent.  For 2011 gross profit rang-in at $18.7 million compared to gross profit of $18.6 million for 2010.  2011 net income was $11.2 million, or $1.12 per fully diluted share, compared with net income of $11.3 million for 2010.
At December 31, 2011, shareholder's equity equaled $57.5 million, or $5.72 per fully diluted share.  Longhai has no long-term debt.  Shares are trading at $1.48 each with a market cap of $14.8 million.
We first compared Longhai to peers in a February article when shares were at the $1 mark.  Shares have risen in value, but this company still seems to have a tremendous upside to get on par in valuation with others in the industry.  The new plant getting fully online could potentially send annual sales near the $1 billion mark.
Mr. Steven Ross, Executive Vice President of Longhai, said in today's release, "We are pleased to report record sales for 2011, largely driven by the opening of our new production facility in the fourth quarter of 2011. As the newly-opened steel wire facility continues to ramp output, we expect to see continued year-over-year improvements in operating results throughout 2012. During the first quarter of 2012 we also reconstituted our Board of Directors and transitioned to a new auditing firm, Marcum Bernstein & Pinchuk, LLP, both significant steps toward our goal of moving to a senior exchange."
Ross continued, "Once fully ramped, the new facility will increase our overall capacity by approximately 60%, and have the capability to produce such high margin products as alloy steel, cold forging steel and welding rods. Over the next two quarters we expect to begin utilizing higher quality steel billets, which will enable us to produce higher quality and higher margin products for additional markets beyond construction and infrastructure."
Longhai Steel (LGHS) Stock Quote and News:
---
Disclaimer: Neither http://www.otcshowcase.com nor its officers, directors, partners, employees or anyone involved in the publication of the website or newsletters ("us" or "we") is a registered investment adviser or licensed broker-dealer in any jurisdiction whatsoever. Further, we are not qualified to provide any investment advice and we make no recommendation to purchase or sell any securities. The prior article is published as information only for our readers. otcshowcase.com is a third party publisher of news and research. Our site does not make recommendations, but offers information portals to research news, articles, stock lists and recent research. Nothing on our site should be construed as an offer or solicitation to buy or sell products or securities. This site is sometimes compensated by featured companies, news submissions and online advertising. Viper Enterprises, LLC (parent company of OTC Showcase) has Viper Enterprises, LLC (parent company of OTC Showcase) has received no compensation for this article from and owns no shares of the aforementioned company(ies). Please read and fully understand our entire disclaimer at http://www.otcshowcase.com/about-2/disclaimer.