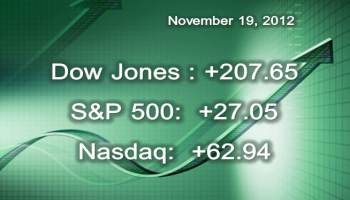 Stocks on Wall Street stampeded ahead on Monday to escalate a rally that started last Friday on high hopes that Washington D.C. is going to sing "kumbaya" together and work out an answer to the so-called fiscal cliff that is coming at the start of 2013 that will cost the economy more than $600 billion in spending cuts and tax hikes. Investors believing that a budget deal will be struck by the end of 2012 lofted all three exchanges the most since September 6 when European Central Bank President Mario Draghi announced his plans of "whatever it takes" to save the euro.
Overseas, markets rallied as well in part on the back on the fiscal cliff optimism in the States and also because of an expected tentative approval tomorrow by euro zone finance ministers of 44 billion euro in bailout funds for Greece. It's a cyclic effect as investors have been concerned about Greece and the euro zone, so the debt-riddled country finally getting another round of bailout funds will modestly help to lift spirits in North America as well.
The Dow Jones Industrial Average advanced 207.58 points to 12,795.89. All 30 Dow components trekked higher on the day. The much broader S&P 500 jumped 27.0 points to 1,386.88 while the tech-heavy Nasdaq bounced 62.94 points to 2,916.07.
In Blue Chip News
Tyson Foods reported a 91 percent jump in fourth-quarter profits as declining sales were offset by higher prices and lower costs. Net income for the quarter was $185 million, or 51 cents per share, compared to $97 million, or 26 cents per share in the year prior quarter. Stripping-out a non-cash impairment charge of a nickel per share, earnings per share were 55 cents per share. Analysts were expecting earnings of 44 cents per share. Shares surged 10.90% to $18.72.
Bank of America was the leading financial play after getting an upgrade from analysts at Stifel Nicolaus to a "buy" and a price target hike to $11. Shares closed trading at $9.49, ahead by 4.06% on the day. Citigroup (+3.20%), JP Morgan & Chase (+2.68%), Wells Fargo & Co. (+1.44%) and Morgan Stanley (+0.78%) also joined in the rally.

Insurance stocks got a rise today as investors are seeing an opportunity to capitalize on the sellers who jumped ship after superstorm Sandy lambasted the East Coast three weeks ago. Insurers fell sharply over the past few weeks, but the losses may not be as great as originally thought with regards to what the companies pay to policyholders and storm damage may create demand for major insurance brokers. Shares of AIG (+1.86%), Chubb (+0.97%), Allstate (+1.95%) and Travelers (+1.30%), to name a few, gained ground on Monday.
Apple had its best dollar gain day since April and second best day since 1984 on a dollar rise basis. Shares closed at $565.73, ahead by $38.05, or 7.21%.
In some M&A news, Cisco Systems said that it spend $1.2 billion to acquire privately-held hardware company Meraki Inc. to bolster its wireless and networking technology portfolio. Shares of CSCO closed up by 1.73% at $18.30.
Intel surprised by reporting that its Chief Executive Officer Paul Otellini is retiring in May after four decades of service at the semiconductor maker. Shares closed ahead by 0.30% at $20.25.
Read all of the latest market commentary and news.
In Small Cap News

Cardium Therapeutics (NYSE MKT: CXM) announced a winning patent decision in Europe and successful resolution of a long-standing competition between Cardium and its licensor the University of California, and Boston Scientific Corporation (NYSE: BSX) and its licensor Arch Development, over rights to key methods for the application of cardiovascular gene therapy to the treatment of coronary heart disease, as is employed in Cardium's Generx® gene therapy candidate currently in late-stage clinical studies. Shares rose 5.72% to 20.5 cents per shares on a spike in volume with 462,000 shares changing hands.
Television loyalty service Viggle Inc. (OTCQB: VGGL) entered into an agreement to acquire GetGlue, the leading social TV application, for cash and stock. Under the terms of the deal, Viggle will pay $25 million in cash and 48.3 million shares of stock for GetGlue. Viggle Inc. will operate the Viggle and GetGlue brands, and GetGlue founder and CEO Alex Iskold will join Viggle Inc. in a senior executive position on its management team and as a member of its Board of Directors. Viggle will also absorb all 34 GetGlue employees. Shares of VGGL closed up by 57.66% at $1.75.
Aura Systems, Inc. (OTCBB: AUSI) said that its AuraGen/VIPER was selected for a program that would require up to 5,000 systems valued at approximately $150 million to be delivered over a seven year period. This new order is for 5,000 stand-alone diesel generators using the VIPER power solution. In the past most of our military orders were for vehicle integrated solutions. Shares skipped up 2 cents to 47 cents.
FlyReply Corp, a wholly owned subsidiary of Xhibit Corp. (OTCQB: XBTC), has signed a digital marketing services agreement with Punch Monkeys, LLC, a company which manages fan engagement on behalf of American Idol winner Jordin Sparks. The agreement provides for FlyReply™ to provide comprehensive digital marketing and social media marketing strategies for Sparks.    Shares of Xhibit fell by 9 cents to $3.85.
Attitude Drinks (OTCBB:ATTD), the maker of the Phase III® Recovery brand, said that it signed a sales authorization with The Kroger Co.(NYSE: KR, +0.45%), the largest grocery store chain in the U.S. With the deal, Phase III® will be available in select grocery stores through Kroger in Alabama, Georgia, Tennessee, South Carolina and Kentucky. Shares closed the day flat at $0.0007.
Remember, you can read all of the press releases from Bulletin Board companies here.
The latest 200 Pinksheet press releases can be read here.
On the Economic Front
Sales of previously owned homes rose more than expected in October to a seasonally-adjusted rate of 4.79 million units - up by 2.1% from September -representing the second highest level in 2012, according to the National Association of Realtors. On a year-over-year basis, existing home sales rose by 10.9% from October 2011. It was the 16th straight month of gains. Helping boost prices is a dwindling inventory of homes for sale which dropped to only 2.14 million left at the end of October, a 22% drop from a year ago. The national median home price rose 11.1% to $178,600. Hurricane Sandy hit too late in October to have much of an impact, but the devastation from the storm could be felt in November.
Commodities
Gold prices rallied as the USD weakened against the euro. Spot gold prices rose 1.21% to $1,730.60 per troy ounce.
Copper futures appreciated as well with the hints of U.S. budget negotiations and weaker dollar. Because commodities are priced in the US dollars, a less-valuable dollar makes commodities cheaper for investors who use foreign currency. Copper for December delivery, the most actively traded, added 8 cents per pound, or 2.2%, to $3.53.
Crude oil futures climbed as tensions are getting high in the Middle East with airstrikes ongoing between Israel and Palestinians in the Gaza Strip arising concerns about a potential supply problem. Contracts for crude for January delivery settled the day at $89.28 per barrel, a rise of $2.36 or 2.7%, on the New York Mercantile Exchange.
Dow Jones Industrial Average (DJIA) Stock Quote and News:
Cardium Therapeutics (CXM) Stock Quote and News:
---
Disclaimer: Neither www.otcshowcase.com nor its officers, directors, partners, employees or anyone involved in the publication of the website or newsletters ("us" or "we") is a registered investment adviser or licensed broker-dealer in any jurisdiction whatsoever. Further, we are not qualified to provide any investment advice and we make no recommendation to purchase or sell any securities. The prior article is published as information only for our readers. otcshowcase.com is a third party publisher of news and research. Our site does not make recommendations, but offers information portals to research news, articles, stock lists and recent research. Nothing on our site should be construed as an offer or solicitation to buy or sell products or securities. This site is sometimes compensated by featured companies, news submissions and online advertising. Viper Enterprises, LLC (parent company of OTC Showcase) has been compensated two thousand five hundred dollars by Cardium Therapeutics for its efforts in managing the dissemination of public corporate information on its website and to its database of subscribers and across select financial and social media websites. Please read and fully understand our entire disclaimer at http://www.otcshowcase.com/about-2/disclaimer.