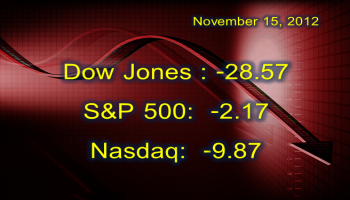 US stocks continued their downward plight on Thursday, adding to a string of losses amid a lack of confidence lawmakers can stop the economy from going over the so-called fiscal cliff and data showing the 17-country euro-zone has fallen back into recession.
The Dow Jones Industrials ended the day down 28.57 points to 12,542.38
The S&P 500 fell 2.17 points to 1,353.33, and the Nasdaq Composite Index dropped 9.87 points to 2,836.94.
BP agreed to plead guilty to criminal charges over the Deepwater Horizon disaster in the Gulf of Mexico and will pay $4 billion U.S. to resolve criminal charges. Shares were slightly up in afternoon trading.
Wal-Mart shares slid 4% after the number-one retailer's revenue fell short of forecasts, and the company cited currency fluctuations and "economic conditions" as negative factors impacting its sales.
Target shares rose nearly 2% after the retailer reported earnings in line with forecasts, but missed revenue forecasts.
Shares of United Airlines dropped more than 1% after the company announced a computer outage that affected some of its flights.
Apple's stock, already in bear market territory, slipped to a six-month low, falling more than 2%.
PetSmart beat earnings expectations, sending its shares soaring.
Fiscal cliff fears in the United States remain a heightened concern for market participants.
President Obama met with business leaders Wednesday to discuss the fiscal cliff and is scheduled to meet with congressional leaders Friday.
Overseas, China's ruling Communist Party named its next seven leaders, the euro-zone officially entered a double-dip recession, and Israel launched a series of blistering air strikes Wednesday on what it said were terrorist targets in Gaza.

The euro-zone officially slipped into recession in the third quarter, as official figures showed growth among the 17 euro countries shrinking 0.1%. It's the second recession in the area since 2009.
Economically speaking, the report on initial jobless claims showed the lingering effects of Superstorm Sandy in the Northeast: 439,000 people filed for their first week of unemployment benefits last week. That was much higher than the forecast of 388,000 in jobless claims and it is the highest jobless claims tally since the last week of April, 2011.
Meanwhile, the Consumer Price Index showed that inflation ticked up 0.1% in October, as expected.
Moreover, at a speech in Atlanta, Federal Reserve Chairman Ben Bernanke said the Fed is willing to do what it can to help the housing market. He said housing is rebounding, but still faces challenges.
The price on the benchmark 10-year U.S. Treasury was unchanged, keeping yields at Wednesday's 1.59%.
Oil prices retracted $1.06 to $85.26 U.S. a barrel.
Gold prices subtracted $17.10 an ounce to $1,713 U.S.
Dow Jones (DJIA) Stock Quote and News:
---
Disclaimer: Neither www.otcshowcase.com nor its officers, directors, partners, employees or anyone involved in the publication of the website or newsletters ("us" or "we") is a registered investment adviser or licensed broker-dealer in any jurisdiction whatsoever. Further, we are not qualified to provide any investment advice and we make no recommendation to purchase or sell any securities. The prior article is published as information only for our readers. otcshowcase.com is a third party publisher of news and research. Our site does not make recommendations, but offers information portals to research news, articles, stock lists and recent research. Nothing on our site should be construed as an offer or solicitation to buy or sell products or securities. This site is sometimes compensated by featured companies, news submissions and online advertising. Viper Enterprises, LLC (parent company of OTC Showcase) has received no compensation for this article from and owns no shares of the aforementioned company(ies). Please read and fully understand our entire disclaimer at http://www.otcshowcase.com/about-2/disclaimer.