PacWest Equities, Inc. (Pinksheets: PWEID) said Monday that third quarter sales for its 100-percent-owned subsidiary PurGro Electronics increased by 430 percent as compared to sales from the year prior quarter.  Dollar amounts were not provided in the corporate statement.  Sales have been rising for three consecutive quarters, according to the company.
A pinksheet-listed company, PacWest does not submit filings to the Security and Exchange Commission and carries the skull and crossbones (Caveat Emptor, or "Buyer Beware") moniker for limited information on the OTC Markets website.
The Las Vegas-based company is focused on technology-based organic food production for both humans and animals.
PurGro's lead product is the GroBot Evolution system, an all-digital controller and monitoring device that has the sensors, injection pumps and wireless plug-in relays to run a grow room or greenhouse.  A video on the product:

The company is also looking to build its presence in the environmentally-controlled, organic food production industry through its other wholly-owned subsidiary World EcoSource Corp., a tech company which offers the MobileFeed® and MobileFood® as turnkey solutions for production of consumables.

PacWest said on November 2 that FINRA (Financial Industry Regulatory Authority, Inc.) approved a 3-for-1 forward split of PacWest Equities shares effective at the open of trading yesterday.  The stock will trade under the temporary symbol "PWEID" for a period of 20 business days after which it will revert to the symbol "PWEI".

According to OTCMarkets.com, the company has been dubbed Caveat Emptor for one or more of the following reasons:
Questionable Promotion — The security is being promoted to the public, but adequate current information about the issuer has not been made available to the public.
Spam — The security is the subject of spam promotion having the effect of encouraging trading of the issuer's securities.
Investigation of Fraud — There is a known investigation of fraudulent activity involving the company, its securities or insiders.
Suspension/Halt — A Regulatory Authority has halted or suspended trading for public interest concerns (i.e. not a news or earning halt).
Disruptive Corporate Actions — The security or issuer is the subject of corporate actions, such as reverse mergers or serial stocks splits and name changes, without adequate current information being publicly available.
Unsolicited Quotes — The security has only been quoted on an unsolicited basis since it entered the public markets and the issuer has not made adequate current information available to the public.
Other Public Interest Concern — There is, in OTC Markets' view, a public interest concern.
Shares have been bee-lining upward since mid-October, rising more than 1,000 percent from lows of under a nickel per share.  Volume is starting to decrease to a degree as the stock price rises as notable in the below chart, signaling that the upward pressure (especially if it is indeed being fueled by a promotion) is running-out of steam.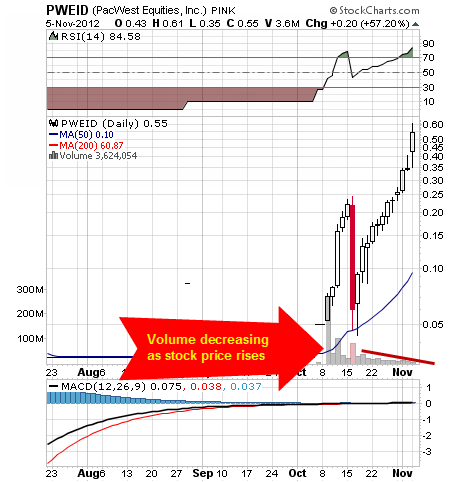 PacWest Equities (PWEID) Stock Quote and News:
---
Disclaimer: Neither www.otcshowcase.com nor its officers, directors, partners, employees or anyone involved in the publication of the website or newsletters ("us" or "we") is a registered investment adviser or licensed broker-dealer in any jurisdiction whatsoever. Further, we are not qualified to provide any investment advice and we make no recommendation to purchase or sell any securities. The prior article is published as information only for our readers. otcshowcase.com is a third party publisher of news and research. Our site does not make recommendations, but offers information portals to research news, articles, stock lists and recent research. Nothing on our site should be construed as an offer or solicitation to buy or sell products or securities. This site is sometimes compensated by featured companies, news submissions and online advertising. Viper Enterprises, LLC (parent company of OTC Showcase) has received no compensation for this article from and owns no shares of the aforementioned company(ies). Please read and fully understand our entire disclaimer at http://www.otcshowcase.com/about-2/disclaimer.