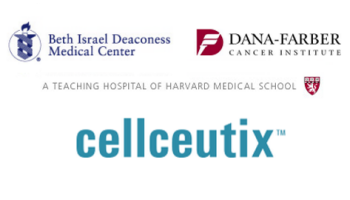 The day of dosing cancer patients with Kevetrin is drawing near according to news this morning from Cellceutix Corporation (OTCBB: CTIX). The Beverly, Massachusetts-based company said today that clinical trials for their novel anti-cancer drug have gone active at Harvard's Dana-Farber Cancer Center and partner Beth Israel Deaconess Medical Center. Dosing should begin within in about two weeks, marking a major milestone for the biotechnology firm, judging from prior news.
Kevetrin, the company's flagship compound, has been shown to restore the critical tumor-suppression protein p53, also called the "Guardian Angel of the Human Genome," to its normal role as master cell regulator. In nearly all forms of cancer, p53 is muted in function in some form which represents significant market penetration potential for a new cancer therapeutic that could prove a benefit to the tens of millions of people afflicted by cancer globally.

Additional clinical trials are also slated to be performed, and sponsored by, Beth Israel Deaconess in combination with Pfizer multikinase inhibitor drugs as potential new therapies for renal cancer and melanoma. Further research is on tap for 2013 at a leading European university in combination with another global drug maker, although names have not been disclosed due to confidentiality agreements.
Shares of CTIX closed ahead 7.78 percent on the day at 97 cents.
Cellceutix Corp. (CTIX) Stock Quote and News:
---
Disclaimer: Neither www.otcshowcase.com nor its officers, directors, partners, employees or anyone involved in the publication of the website or newsletters ("us" or "we") is a registered investment adviser or licensed broker-dealer in any jurisdiction whatsoever. Further, we are not qualified to provide any investment advice and we make no recommendation to purchase or sell any securities. The prior article is published as information only for our readers. otcshowcase.com is a third party publisher of news and research. Our site does not make recommendations, but offers information portals to research news, articles, stock lists and recent research. Nothing on our site should be construed as an offer or solicitation to buy or sell products or securities. This site is sometimes compensated by featured companies, news submissions and online advertising. Viper Enterprises, LLC (parent company of OTC Showcase) has been compensated on several occasions for news dissemination and journalism services from Cellceutix Corporation and holds a total of 125,000 shares of Cellceutix Corporation, none of which is planned to be sold in the next 72 hours. Prior compensation is listed in our full disclosure. Please read and fully understand our entire disclaimer at http://www.otcshowcase.com/about-2/disclaimer.