Cardium Announces Patent Award For Rights To Cardiovascular Gene Therapy For The Treatment Of Heart Disease
Resolves Long-standing Competition with Boston Scientific Corporation Over Rights to Cardiovascular Gene Therapy in the U.S. and Europe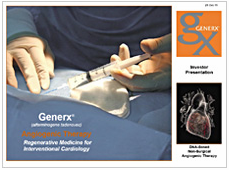 Cardium Therapeutics (NYSE MKT: CXM) today announced a winning patent decision in Europe and successful resolution of a long-standing competition between Cardium and its licensor the University of California, and Boston Scientific Corporation (NYSE: BSX) and its licensor Arch Development, over rights to key methods for the application of cardiovascular gene therapy to the treatment of coronary heart disease, as is employed in Cardium's Generx® gene therapy candidate currently in late-stage clinical studies. Following a decision by the European Patent Office, Cardium's patent portfolio now includes allowed and issued patents covering its gene therapy approach both in Europe and in the United States, with competing patent applications licensed and pursued by Boston Scientific having been successfully overcome in both Europe and the U.S.
The competing patent applications licensed by Boston Scientific Corporation had been filed by Dr. Jeffrey Leiden et al., currently President & CEO of Vertex Pharmaceuticals, and had been the subject of opposition proceedings in Europe and interference proceedings in the United States, both of which were ultimately resolved in favor of Cardium. Following resolution of the opposition proceedings and further examination of Cardium's case, the European Patent Office has now approved Cardium's patent application for grant in Europe. Three corresponding U.S. Patents that had been challenged by Boston Scientific Corporation (in decisions that were appealed to the United States Court of Appeals for the Federal Circuit), have been affirmed in Cardium's favor.
Cardium has additional patents and patent applications directed to its methods of cardiovascular gene therapy in the U.S., Europe, Russia and elsewhere, and the company recently filed new patent applications directed to certain improved techniques for the treatment of heart disease that are currently the subject of a Phase 3 registration trial based in Moscow, which is designed to generate additional safety and effectiveness data for the Russian Federation and other jurisdictions. Generx® (alferminogene tadenovec) is intended to stimulate the growth of collateral blood vessels to effectively bypass coronary artery atherosclerotic blockages without the need for surgical procedures or angioplasty and stents; and its safety and effectiveness have been the subject of clinical studies involving more than 650 patients in the U.S., Europe and elsewhere. Generx has been assigned the trade name Cardionovo™ for planned commercialization in the Russian Federation. Cardium believes that its Generx clinical database represents the largest and most complete gene therapy dossier – and is directed to a major medical indication that is a leading cause of death throughout the developed world.
"The resolution of these important reviews of our gene therapy patents, and the consistent decisions in our favor including rulings by the U.S. courts of appeal, underscore the value of our patent portfolio, which we believe reflects a breakthrough approach to the treatment of coronary heart disease," said Dr. Tyler M. Dylan-Hyde, Chief Business Officer and General Counsel of Cardium Therapeutics.
Recently-published findings demonstrate that Cardium's innovative technique employing transient cardiac ischemia can be used to dramatically enhance gene delivery and transfection efficiency after one-time intracoronary administration of adenovector in mammalian hearts. Two consecutive but brief periods of coronary artery occlusion combined with co-administration of nitroglycerin increased both adenovector presence (measured by PCR) and transgene expression (assessed by luciferase activity) by over two orders of magnitude (>100 fold) in the heart, as compared to prior intracoronary artery delivery methods.
The research results published in Human Gene Therapy Methods extend those findings and demonstrate that Cardium's new technique for adenovector gene delivery in the heart can be used to dramatically boost adenovector delivery. By enhancing uptake even in patients with less severe forms of disease and ischemia, it would be expected to reduce response variability and allow for the potential treatment of patients with a broader range of associated coronary artery disease. The new treatment protocols for Cardium's recently-initiated ASPIRE clinical study have been developed to use this improved knowledge about induced transient ischemia techniques to enhance the non-surgical, catheter-based delivery of Generx to the heart.
Cardium has also been actively advancing its Generx product candidate's engineering and process technology in preparation for commercialization.  The Company successfully transferred a refined, improved and fully-validated manufacturing process to SAFC®, the custom manufacturing and services business unit of Sigma-Aldrich Corporation (NASDAQ: SIAL), a top global specialty chemicals and biologics supplier, located in Carlsbad, California.  As a result of the rigorous technical transfer process, important process improvements were achieved enabling much higher manufacturing process yields.  Generx's long-term product stability has been established at a minimum of six years making it possible to manufacture product in large, cost effective batch sizes.  The dose preparation process for Generx has been simplified through the integration of a fully-validated, closed-system drug transfer process incorporating the use of PhaSeal® System passive safety technology to streamline and simplify the cath-lab preparation and eliminating the need to prepare Generx in a sterile, biological safety hood.  The Company has also developed a new and unique, fully-validated bio-activity release assay to measure and evaluate the pro-angiogenic potency of each newly manufactured batch of Generx.
The European Commission's recent approval of uniQure's Glybera® (alipogene tiparvovec) – the first gene therapy approval by a major health regulatory authority – is considered to represent a significant milestone and validation for the gene therapy industry.
About Generx and the ASPIRE Study

Generx (Ad5FGF-4) is a disease-modifying regenerative medicine biologic that is being developed to offer a one-time, non-surgical option for the treatment of myocardial ischemia in patients with stable angina due to coronary artery disease, who might otherwise require surgical and mechanical interventions, such as coronary artery by-pass surgery or balloon angioplasty and stents.  Similar to surgical/mechanical revascularization approaches, the goal of Cardium's Generx product candidate is to improve blood flow to the heart muscle – but to do so non-surgically, following a single administration from a standard balloon angioplasty catheter.  The video "Cardium Generx Cardio-Chant" provides an overview Generx and can be viewed at
http://www.youtube.com/watch?v=pjUndFhJkjM
.
In March 2012, Cardium reported on the ASPIRE Phase 3 registration study to evaluate the therapeutic effects of its lead product candidate Generx in patients with myocardial ischemia due to coronary artery disease. The ASPIRE study, a 100-patient, randomized and controlled multi-center study to be conducted at up to eight leading cardiology centers in the Russian Federation, is designed to further evaluate the safety and effectiveness of Cardium's Generx DNA-based angiogenic product candidate, which has already been tested in clinical studies involving 650 patients at more than one hundred medical centers in the U.S., Europe and elsewhere.  The efficacy of Generx will be quantitatively assessed using rest and stress SPECT (Single-Photon Emission Computed Tomography) myocardial imaging to sensitively measure improvements in microvascular cardiac perfusion following a one-time, non-surgical, catheter-based administration of Generx.  A recent article, "Cardium's Heart Disease Gene Therapy Advancing with New Discoveries", outlining the history of the Generx clinical development program is available at http://sandiegobiotechnology.com/topics/4705/cardiums-heart-disease-gene-therapy-moving-toward-commercialization/.
About Cardium
Cardium is an asset-based health sciences and regenerative medicine company focused on the acquisition and strategic development of innovative products and businesses with the potential to address significant unmet medical needs and having definable pathways to commercialization, partnering or other economic monetizations. Cardium's current portfolio includes the Tissue Repair Company, Cardium Biologics, and the Company's newly-acquired To Go Brands® healthy nutraceutical supplement business. The Company's lead commercial product Excellagen® topical gel for wound care management has received FDA clearance for marketing and sale in the United States.  Cardium's lead clinical development product candidate Generx® is a DNA-based angiogenic biologic intended for the treatment of patients with myocardial ischemia due to coronary artery disease. To Go Brands develops, markets and sells dietary supplements through established regional and national retailers.  In addition, consistent with its capital-efficient business model, Cardium continues to actively evaluate new technologies and business opportunities. News from Cardium is located at www.cardiumthx.com.
Forward-Looking Statements
Except for statements of historical fact, the matters discussed in this press release are forward looking and reflect numerous assumptions and involve a variety of risks and uncertainties, many of which are beyond our control and may cause actual results to differ materially from stated expectations.  For example, there can be no assurance that our intellectual property will be effectively enforceable or that rights to commercialize our products will not be challenged by others; that enhancements in the uptake of adenovectors can be successfully applied to improve the uptake, applicability or therapeutic effects of Generx in human patients; that Generx can be successfully advanced in clinical studies outside of the U.S.; that results or trends observed in one clinical study or procedure will be reproduced in subsequent studies or procedures, or that clinical studies even if successful will lead to product advancement or partnering; that improvements in the formulation or use of Generx will be commercially practicable, or that Generx could be successfully advanced as a therapeutic in developing markets or that the results of studies in such markets could be used to advance or broaden the regulatory or commercialization activities of Generx in the U.S. or other markets; that the ASPIRE clinical study will be successful or will lead to approval of Generx by the Russian Health Authority for marketing and sales in Russia or lead to approvals in other countries of the Commonwealth of Independent States; that additional clinical evidence regarding the safety and effectiveness of Generx that might be obtained in Russia would be useful for optimizing and broadening commercial development pathways in other industrialized countries; that our products or product candidates will not be unfavorably compared to competitive products that may be regarded as safer, more effective, easier to use or less expensive; that FDA or other regulatory clearances or other certifications, or other commercialization efforts will be successful or will effectively enhance our businesses or their market value; that our products or product candidates will prove to be sufficiently safe and effective after introduction into a broader patient population; or that third parties on whom we depend will perform as anticipated.
Actual results may also differ substantially from those described in or contemplated by this press release due to risks and uncertainties that exist in our operations and business environment, including, without limitation, risks and uncertainties that are inherent in the development of complex biologics and in the conduct of human clinical trials, including the timing, costs and outcomes of such trials, our ability to obtain necessary funding, regulatory approvals and expected qualifications, our dependence upon proprietary technology, our history of operating losses and accumulated deficits, our reliance on collaborative relationships and critical personnel, and current and future competition, as well as other risks described from time to time in filings we make with the Securities and Exchange Commission.  We undertake no obligation to release publicly the results of any revisions to these forward-looking statements to reflect events or circumstances arising after the date hereof.
Copyright 2012 Cardium Therapeutics, Inc.  All rights reserved.
For Terms of Use Privacy Policy, please visit www.cardiumthx.com.
Cardium Therapeutics®, Generx®,Cardionovo™, Tissue Repair™, Gene Activated Matrix™, GAM™, Excellagen®, Excellarate™, Osteorate™, MedPodium®, Appexium®, Linée®, Alena®, Cerex®, D-Sorb™, Neo-Energy®, Neo-Carb Bloc®, Neo-Chill™, and Nutra-Apps® are trademarks of Cardium Therapeutics, Inc. or Tissue Repair Company.
To Go Brands®, Acai Natural Energy Boost™, Green Tea Energy Fusion™, Trim Energy®, Healthy Belly®, Smoothie Complete®, High Octane®, VitaRocks®, Trim Green Coffee Bean™ and Glucoberry™ are trademarks of To Go Brands, Inc.
(Other trademarks belong to their respective owners)
SOURCE Cardium Therapeutics
Cardium Therapeutics (CXM) Stock Quote and News:
---
Disclaimer: Neither www.otcshowcase.com nor its officers, directors, partners, employees or anyone involved in the publication of the website or newsletters ("us" or "we") is a registered investment adviser or licensed broker-dealer in any jurisdiction whatsoever. Further, we are not qualified to provide any investment advice and we make no recommendation to purchase or sell any securities. The prior article is published as information only for our readers. otcshowcase.com is a third party publisher of news and research. Our site does not make recommendations, but offers information portals to research news, articles, stock lists and recent research. Nothing on our site should be construed as an offer or solicitation to buy or sell products or securities. This site is sometimes compensated by featured companies, news submissions and online advertising. Viper Enterprises, LLC (parent company of OTC Showcase) has been compensated two thousand five hundred dollars by Cardium Therapeutics for its efforts in managing the dissemination of public corporate information on its website and to its database of subscribers and across select financial and social media websites. Please read and fully understand our entire disclaimer at http://www.otcshowcase.com/about-2/disclaimer.