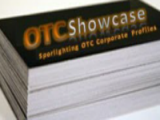 IntelGenx Stock Chart Analysis Video(0)

A "stock to watch" this week, IntelGenx has had two great days so far. Momentum has gripped the stock with volume surging, keeping it on radar to possibly test resistance around 90 cents.



IntelGenx has been the focus of several articles across the web recently as it is slated for an FDA decision this month. Attention is coming to the play with volume steadily increasing in the first days of November bringing a sharp rise in share value.






IntelGenx is a drug delivery company focused on the development of oral controlled-release products as well as novel rapidly disintegrating delivery systems. IntelGenx uses its unique multiple layer delivery system to provide zero-order release of active drugs in the gastrointestinal tract. IntelGenx has also developed novel delivery technologies for the rapid delivery of pharmaceutically active substances in the oral cavity based on its experience with rapidly disintegrating films. IntelGenx' research and development pipeline includes products for the treatment of severe depression, hypertension, erectile dysfunction, benign prostatic hyperplasia, migraine, insomnia, bipolar disorder, idiopathic pulmonary fibrosis, allergies and pain management. More information is available about the company at www.intelgenx.com.
IntelGenx Corp. (IGXT) Stock Quote and News:
Disclaimer: Neither http://www.otcshowcase.com nor its officers, directors, partners, employees or anyone involved in the publication of the website or newsletters ("us" or "we") is a registered investment adviser or licensed broker-dealer in any jurisdiction whatsoever. Further, we are not qualified to provide any investment advice and we make no recommendation to purchase or sell any securities. The prior article is published as information only for our readers. otcshowcase.com is a third party publisher of news and research. Our site does not make recommendations, but offers information portals to research news, articles, stock lists and recent research. Nothing on our site should be construed as an offer or solicitation to buy or sell products or securities. This site is sometimes compensated by featured companies, news submissions and online advertising. Viper Enterprises, LLC (parent company of OTC Showcase) has received no compensation for this article from and owns no shares of the aforementioned company(ies). Please read and fully understand our entire disclaimer at http://www.otcshowcase.com/?page_id=190.