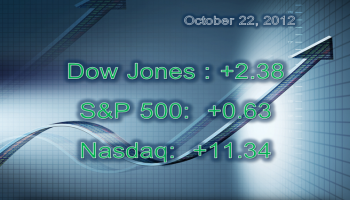 U.S. stocks fought their way slightly higher Monday as investors took a cautious approach at the start of a big week for Corporate America. During the week, 140 of the S&P 500 companies will be reporting earnings; keeping traders sharp to fluctuations and intraday trends.
Down more than 100 points during the trading day, the Dow Jones Industrial average recovered to eke ahead by 2.38 points to close at 13,345.90.
The S&P 500 index nudged forward 0.61 to 1,433.80, while the Nasdaq gained 11.33 to 3,016.96.
Dow bellwether Caterpillar kicked off the week's earnings parade with a disappointing outlook, even as its quarterly results came in better than expected, citing continued economic weakness and uncertainty. After a weak open, Caterpillar held on to a gain, making it among the best performers on the Dow. But, General Electric and Microsoft, which reported lackluster earnings last week, continued to drag on the blue-chip index.
Shares of Supervalu "got jiggy with it" on reports that the beleaguered supermarket chain is in takeover discussions with Ceberus Capital Management. Supervalu, who operates grocery stores under its namesake as well as Cub Foods, put itself up for sale in July. Shares had performed a nosedive from over $5 each to under $2 subsequently. Shares today surged by 44 percent to close at $3.17.

In biotech news, Pfizer exercised its option to acquire privately-held NextWave Pharmaceuticals Inc. in a deal valued up to $700 million. NextWave recently got the nod for marketing approval from the FDA for its once-daily, extended-release formulation of liquid methylphenidate for deficit hyperactivity disorder. The company is also in advanced stages of development for an extended release chewable formulation of the drug. Shares pulled-up from lows, but still shed 0.62% on the day.
In more things biotech, Cellceutix Corporation said this morning that its clinical trials at Harvard University's Dana-Farber Cancer Center and partner Beth Israel Deaconess Medical Center are now active. The premier hospitals will be researching Cellceutix's Kevetrin drug candidate against solid tumors. The stock has received a great deal of attention and seen shares rise as Kevetrin is a leading anti-cancer candidate that has been shown to re-active the protein p53, often called the "Guardian Angel of the Human Genome," to its normal tumor suppression duties that cancers had muted. Shares advanced another 7.8 percent with the news.
The S&P 500 also lost ground, as a 5% decline in shares of VF Corp., the maker of North Face jackets and Wrangler jeans, weighed on the index. The company, which is also behind brands like Seven for all Mankind and Vans, posted revenue that missed expectations.
A 13% drop in shares of Monster Beverage added to pressure on the benchmark index. Monster's stock took a tumble after the New York Times first reported that five people may have died in recent years after drinking the company's popular energy drink, citing reports recently released by the Food and Drug Administration.
The Nasdaq slipped slightly, as gains in Netflix helped buoy the tech-heavy index. The online streaming service opens its books later this week, as do fellow tech heavyweights Facebook, Apple and AT&T.
But first Yahoo, with new CEO Marissa Mayer at the helm, will be in the spotlight when it reports after the bell Monday.
Indianapolis-based drug maker Eli Lilly followed last week's good news on its experimental cancer drug with more news this week that its dulaglautide, a one-per-week injectable treatment for type 2 diabetes, met its primary endpoints in phase III trials. Shares still slumped 1.1% on the day.
Also from the pharmacy, Supernus Pharmaceuticals Inc. said that the FDA granted marketing approval for Oxtellar XR, the drug manufacturer's once-daily epilepsy therapeutic. Although shares gapped ahead at the open, they were red by 0.46% at the closing bell.
Meanwhile, shares of DISH Network rose after the company reached an agreement with Voom HD Holdings, which owns Cablevision and AMC Networks, on Sunday. DISH agreed to pay $700 million U.S. in cash to settle a dispute over wireless multi-channel video distribution and data service licenses.
The price of the benchmark 10-year U.S. Treasury gained, raising the yield down to 1.80% from Friday's 1.77%. Treasury prices and yields move in opposite directions.
Oil prices fell $1.75 to $88.30 U.S. a barrel.
Gold prices picked up $4.30 to $1,728.20 U.S. an ounce.
Dow Jones Industrial Average (DJIA) Stock Quote and News:
Cellceutix Corp. (CTIX) Stock Quote and News:
---
Disclaimer: Neither www.otcshowcase.com nor its officers, directors, partners, employees or anyone involved in the publication of the website or newsletters ("us" or "we") is a registered investment adviser or licensed broker-dealer in any jurisdiction whatsoever. Further, we are not qualified to provide any investment advice and we make no recommendation to purchase or sell any securities. The prior article is published as information only for our readers. otcshowcase.com is a third party publisher of news and research. Our site does not make recommendations, but offers information portals to research news, articles, stock lists and recent research. Nothing on our site should be construed as an offer or solicitation to buy or sell products or securities. This site is sometimes compensated by featured companies, news submissions and online advertising. Viper Enterprises, LLC (parent company of OTC Showcase) has been compensated on several occasions for news dissemination and journalism services from Cellceutix Corporation and holds a total of 125,000 shares of 144 restricted stock of Cellceutix Corporation, none of which has been sold to date. Prior compensation is listed in our full disclosure. Please read and fully understand our entire disclaimer at http://www.otcshowcase.com/about-2/disclaimer.