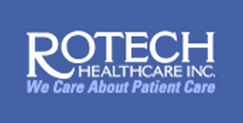 Rotech Healthcare Inc. (OTCBB: ROHI) reported late Wednesday its financial results for the third quarter ended September 30, 2012, showing growth across key indicators and significant decreases in other revenue generators for the provider of home medical equipment and related products.
Net revenue was positively impacted by increases in oxygen patients (up 6 percent), Continuous Positive Airway Pressure (CPAP) rental patients (up 12 percent) and CPAP sales (up 7 percent) during the quarter. Organic patient growth and previously completed asset purchase transactions contributed approximately $2.7 million and $0.7 million, respectively, to net revenue.
Negative impacts to net revenue were the result of lower nebulizer medication volume and reimbursement (down $1.8 million); decreases from higher rates of contractual/revenue adjustments (down $3.2 million); patients being shifter to non-billable status primarily as a result of Medicare claim denials from pre-payment and post-payment audits (down $3.3 million); Medicare oxygen patients reaching their 36 month rental cap (down $3.5 million); lower sales in non-core product lines (down $200,000).

Adjusted EBITDA (Earnings Before Interest, Taxes, Depreciation and Amoritzation) decreased to $21.4 million in the latest quarter from $27.7 million in the year prior quarter. For the first nine months of 2012, adjusted EBITDA decreased to $65.7 million from $84.1 million for the nine months ended September 30, 2011.
"Patient growth for our key product lines continues to be good, and our efforts to reduce adjustments for contractuals and bad debt are beginning to have a positive impact," said Philip Carter, President and CEO at Orlando, Florida-based Rotech. "Planning for 2013 is well underway to position the Company for improved financial performance for the year ahead," Mr. Carter added.
The company ended the latest quarter with services in 49 states through 410 operating locations.
Shares closed Wednesday down 1.67 percent at 67 cents. Shares have lost about 48 percent of their value since the start of 2012 with highs of $2.05 in February and lows of 26 cents in September.
Rotech Healthcare (ROHI) Stock Quote and News:
---
Disclaimer: Neither www.otcshowcase.com nor its officers, directors, partners, employees or anyone involved in the publication of the website or newsletters ("us" or "we") is a registered investment adviser or licensed broker-dealer in any jurisdiction whatsoever. Further, we are not qualified to provide any investment advice and we make no recommendation to purchase or sell any securities. The prior article is published as information only for our readers. otcshowcase.com is a third party publisher of news and research. Our site does not make recommendations, but offers information portals to research news, articles, stock lists and recent research. Nothing on our site should be construed as an offer or solicitation to buy or sell products or securities. This site is sometimes compensated by featured companies, news submissions and online advertising. Viper Enterprises, LLC (parent company of OTC Showcase) has received no compensation for this article and owns no shares of the aforementioned company(ies). Please read and fully understand our entire disclaimer at http://www.otcshowcase.com/about-2/disclaimer.