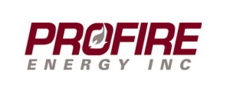 Profire Energy, Inc. (OTCBB: PFIE) in the last month has traded down from $0.90 since the Company reported record financial results on November 14, 2011 to roughly $0.75 in the last few days.
Why is Profire Energy (PFIE) down?
Earnings and Growing Revenues – Back in November, PFIE reported record income before tax for the 9/30/11 quarter ending of $1,646,575 on total revenues of $4.5 million. Revenues have more than doubled in comparison to the previous year revenues of $2.2 million, and it has NO DEBT! For the six month period, Profire reported $7.2 million in sales and $2.7 million EBT. How many times do Small-Cap investors hear about "next quarter"? Profire is delivering now.

The Product – Burner Management Systems (BMS):
Profire is filling many voids in the safety and efficiency of upstream pipeline flow of oil and gas, while helping the industry reduce its carbon footprint.  Several models have been developed over the last decade, with Profire's latest model, the 2100 BMS, steadily grabbing more and more market share. With its electronic ignition and series of sensors, the flame is only lit when the pipeline requires, saving countless amounts of fuel and greatly reducing emissions. Any problems with ignition or the unit are remotely relayed, saving manpower and money. Moreover, torches are no longer required, eliminating the risk or injury to employees.
Growth Plans
- Again the Investor Presentation speaks to growth in the U.S., France, Brazil, and "many other countries."
Management Team – I don't know the management team personally, so I simply say let's judge them on their results and that takes us back to the last quarter's financials which were very good.
Industry – Oil and gas is high growth, high demand industry with numerous stakeholders.  Given the strong balance sheet, revenues and earnings, PFIE seems like a viable option without the risk that comes along with small producers. For existing wells with relatively known production metrics the PFIE units can increase production and improve margins by utilizing their technologies. With increasing energy regulation coming out of Washington, (right or wrong, it is there) Profire is positioned to help companies meet the new energy and regulatory demand.

So why is Profire Energy potentially undervalued? Simply stated, Profire Energy is not well known outside their small niche of the world, and now Management is beginning to reach out to investors to tell their story.
The good news: It is a story based on numbers rather than a "story".
The bad news: Investors will ALWAYS buy earnings per share, and PFIE may not be hidden for long.
Profire Energy (PFIE) Stock Quote and News:
---
Disclaimer: Neither http://www.otcshowcase.com nor its officers, directors, partners, employees or anyone involved in the publication of the website or newsletters ("us" or "we") is a registered investment adviser or licensed broker-dealer in any jurisdiction whatsoever. Further, we are not qualified to provide any investment advice and we make no recommendation to purchase or sell any securities. The prior article is published as information only for our readers. otcshowcase.com is a third party publisher of news and research. Our site does not make recommendations, but offers information portals to research news, articles, stock lists and recent research. Nothing on our site should be construed as an offer or solicitation to buy or sell products or securities. This site is sometimes compensated by featured companies, news submissions and online advertising. Viper Enterprises, LLC (parent company of OTC Showcase) has been compensated twenty-six thousand dollars for one month of consultation and journalism services and to manage a comprehensive investor relations/awareness program by Profire Energy Inc. Please read and fully understand our entire disclaimer at http://www.otcshowcase.com/?page_id=190.